Wasabi Seaweed Chickpea Salad Stuffed Avocados
Sesame-pressed avocado halves make a great vessel for fresh chickpea salad tossed in wasabi seaweed and veggies. Perfect vegan and gluten-free snack for any time of the day!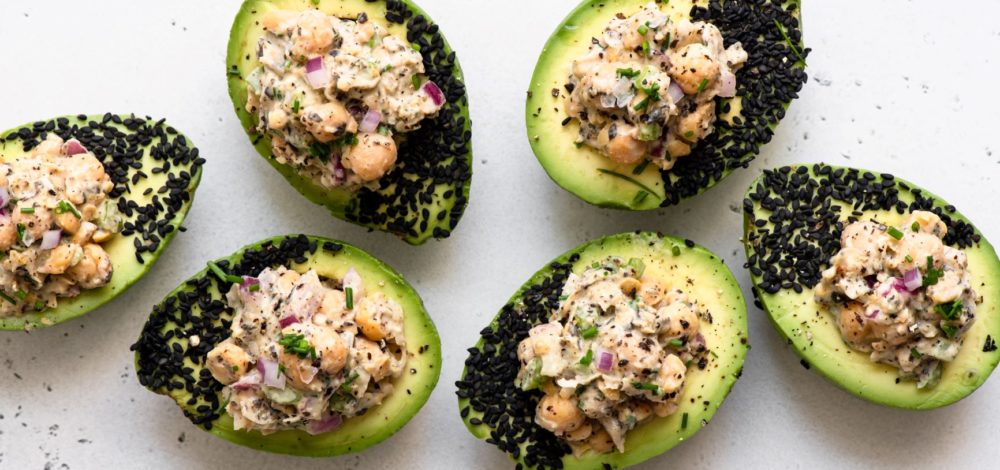 Recipe Serves
4
Minutes Prep
15
Minutes Cook
0
Total Minutes
15
Difficulty: easy
Ingredients
15oz can chickpeas, drained and rinsed
10 sheets Annie Chun's Organic Wasabi Seaweed Snacks
¼ cup minced red onion
¼ cup minced celery
2 tablespoons minced chives
¼ cup vegan mayonnaise
1 tablespoon dijon mustard
1 tablespoon seasoned rice vinegar
Salt and pepper to taste
4 avocados
1 lemon, cut in half
Sesame seeds (optional)
Method
Lightly mash the chickpeas in a large mixing bowl using a potato masher or a fork.
Finely mince the Wasabi Seaweed Snacks with a knife or using a food processor and transfer to the mashed chickpeas. Add in the red onion, celery, chives, vegan mayonnaise, mustard, and rice vinegar and stir to combine. Add salt and pepper to taste.
Cut avocados in half and remove the pit. If the pit is small, scoop out extra avocado and set it aside for another use. Gently rub the cut avocado with a lemon to prevent browning.
Optional: spread sesame seeds on a plate and dip the cut side of avocado in the sesame seeds. Use a piece of plastic wrap or paper towel to partially cover a portion of the avocado to make a clean line.
Peel off the skin of the avocado and fill with the chickpea salad. Garnish with extra chives and black pepper and serve!
Leftovers will keep for 2-3 days in a sealed container in the fridge, but is best enjoyed right away. On its own, chickpea salad will keep for about a week.