Vegan Orange Chicken With Fried Rice
Get out your slow cooker and make this delicious vegan spin on a takeout classic: seitan orange "chicken" atop fragrant scallion fried rice.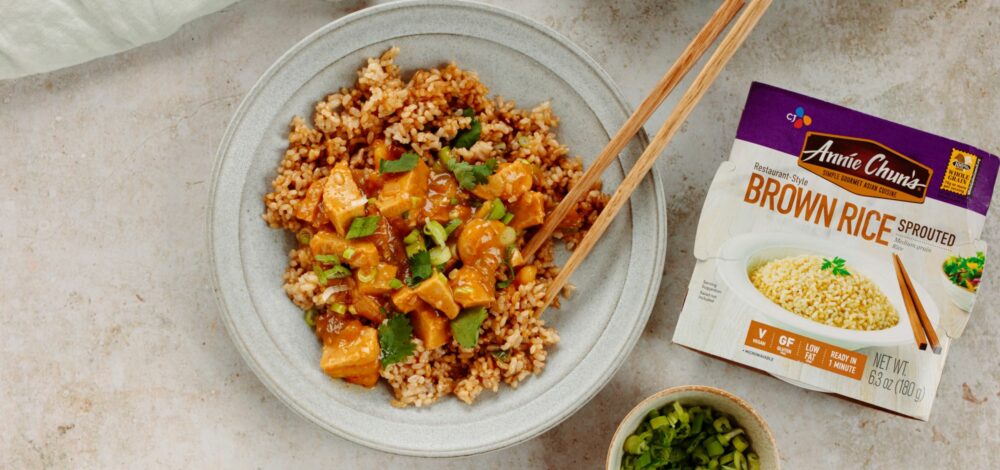 Recipe Serves
4
Minutes Prep
10
Minutes Cook
120
Total Minutes
130
Difficulty: easy
Ingredients
3 tablespoons vegetable oil
1 cup chopped sweet onion
2 teaspoons grated fresh ginger
1 8-10 ounce pack unseasoned seitan chicken strips
1 cup vegetable broth
½ cup frozen orange juice concentrate, thawed
3 tablespoons cornstarch
2 tablespoons soy sauce
2 tablespoons maple syrup
1 tablespoon rice vinegar
¼ teaspoon cayenne pepper
3 scallions, finely chopped
2 packs Annie Chun's Sprouted Brown Rice
1 tablespoon water
1 tablespoon soy sauce
Method
Heat 2 tablespoons of the oil in skillet over medium-high heat until it begins to shimmer. Stir in the onion and ginger and cook until the onion is softened, 2-3 minutes.
Transfer the onion mixture to a slow cooker insert. Add the seitan, broth, orange juice concentrate, cornstarch, soy sauce, maple syrup, rice vinegar, and cayenne pepper. Stir to combine. Cover the pot and cook for 2 hours on high or 4 hours on low.
Heat the remaining tablespoon oil in a large skillet over medium-high heat. Add the scallions and crumble in the rice. Cook, stirring for 3-4 minutes, or until the rice begins to brown. Stir in the water and soy sauce and remove from the heat.
Serve the rice in bowls, topped with seitan orange chicken and extra sauce.
Recipe courtesy of Familystyle Food