Vegan Long Life Noodles
Whip up a heaping bowl of Long Life Noodles using rice noodles for extra chew and length!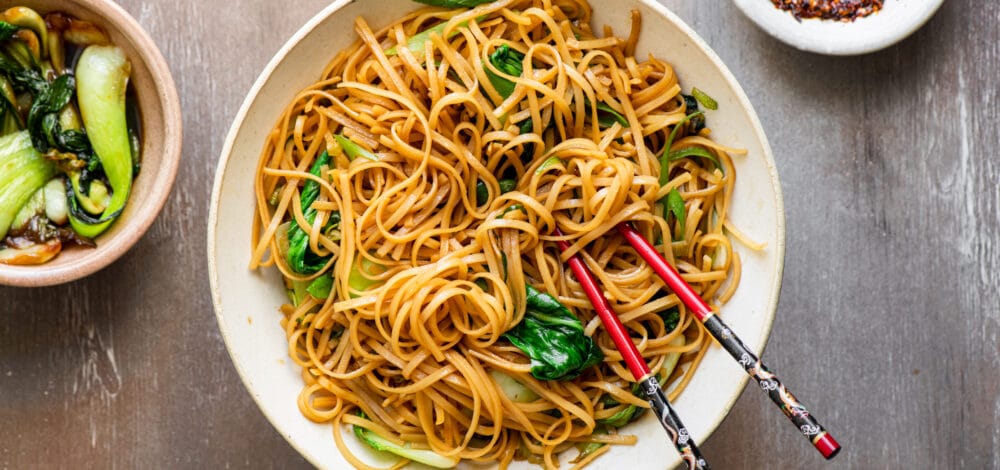 Recipe Serves
4
Minutes Prep
15
Minutes Cook
10
Total Minutes
25
Difficulty: easy
Ingredients
2 tablespoons hoisin sauce
2 tablespoons soy sauce
1 tablespoon sweet soy sauce (substitute an extra tablespoon soy sauce + 1 tsp brown sugar)
2 teaspoons sesame oil
1 teaspoon minced ginger
2 cloves garlic, minced
1 pack Annie Chun's Pad Thai Noodles
1 tablespoon oil
6-8 green onions, light part thinly sliced and dark green part cut into strips or 2-inch pieces
2-3 baby bok choy, washed and leaves separated from stem
Method
Mix together the hoisin sauce, soy sauce, sweet soy sauce, sesame oil, ginger, and garlic. Set aside.
Put Pad Thai noodles into a heat safe bowl and cover with boiling hot water. Set aside for 10 minutes to soften, then drain the noodles.
Heat a large skillet or wok over medium high heat and add the oil. When the oil is shimmering add the light part of the green onions and sauté for 30-60 seconds or until softened.
Add the baby bok choy leaves and cook another 1-2 minutes or until the greens have wilted.
Add the noodles, the dark green part of the green onions, and the sauce. Stir to coat and cook another 1-2 minutes or until the noodles are soft. Add more soy sauce or salt to taste if needed. Serve immediately.