Udon Soup With Leek & Mustard Greens
Elevate your meal with a warm bowl of udon noodles, tender mustard greens, and savory leeks in vegetable broth.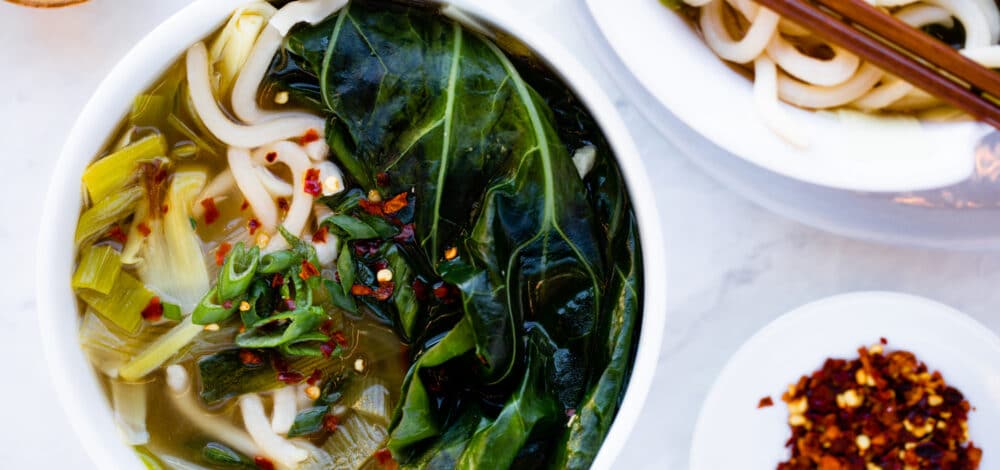 Recipe Serves
2
Minutes Prep
5
Minutes Cook
20
Total Minutes
25
Difficulty: easy
Ingredients
1 tablespoon vegetable oil
2 leeks, sliced into long strips
2 cloves garlic, minced
1 inch ginger, minced or grated
½ teaspoon crushed red pepper flakes, to taste
½ teaspoon kosher salt
6 cups mushroom or vegetable broth
2 packs Annie Chun's Organic Udon Noodles
4 cups chopped mustard greens
2 scallions, minced
Method
Heat the oil in a large pot over medium heat. Add the leeks, garlic, ginger, red pepper flakes, and salt. Reduce the heat to medium-low and cook until the leeks soften about 7 minutes.
Add the broth and bring to a simmer. Reduce the heat and simmer until the flavors develop, about 10 minutes.
Add the noodles and mustard greens and cook until the greens are wilted, gently separating the noodles with tongs. Season to taste with salt and red pepper flakes.
Divide the soup between bowls and garnish with scallions to serve.