Udon Noodles with Shiitake Mushroom Broth
Celebrating Earth Day with this zero waste recipe.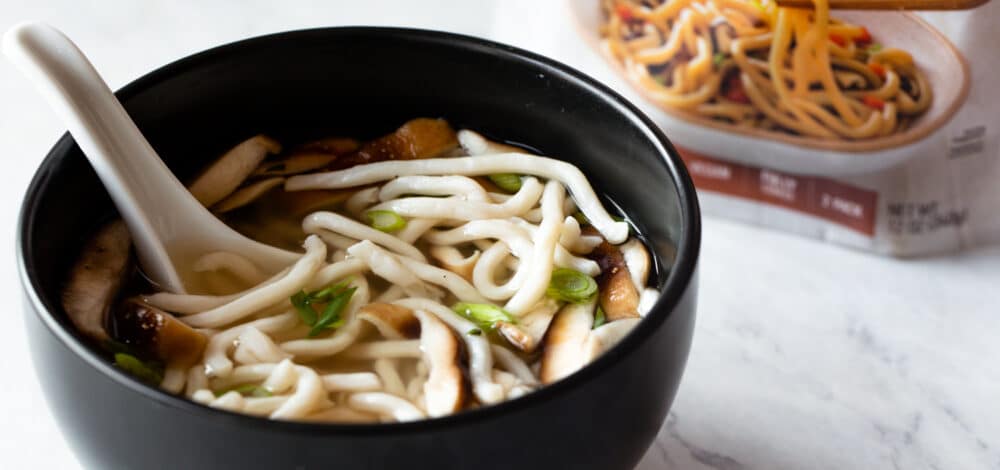 Recipe Serves
2
Minutes Prep
5
Minutes Cook
45
Total Minutes
50
Difficulty: easy
Ingredients
Broth
16 ounces shiitake mushrooms, stems removed
1 inch ginger, peeled
1 garlic clove, peeled
Soup
16 ounces shiitake mushroom caps, sliced thinly
2 tablespoons low-sodium soy sauce
1 12-ounce package Annie Chun's Organic Udon Noodles
1 scallion, sliced
Method
In a medium saucepan, place the shiitake mushroom stems, ginger, and garlic. Cover with 4 cups of water and bring to a simmer on the stove. Cover and simmer for 30 minutes then drain the broth and return to the saucepan.
Return the strained broth to a simmer and add the sliced shiitake mushroom tops and soy sauce and cook for 8 minutes.
Add the udon noodles and cook for 2 minutes, gently breaking up the noodles with chopsticks or a fork.
Divide the soup between bowls and serve with sliced scallions for garnish.