Tomatoes, Edamame and Eggs Udon Soup Bowl
Delicious udon in a Chinese-inspired egg drop soup. Made with Annie Chun's Udon Soup Bowl, this quick recipe is both hearty and nourishing.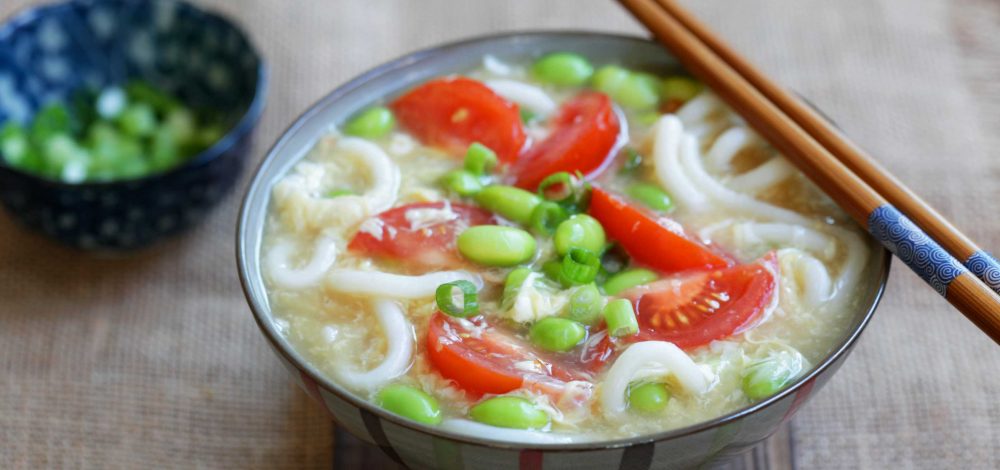 Recipe Serves
1
Minutes Prep
10
Minutes Cook
5
Total Minutes
5
Difficulty: easy
Ingredients
1 tablespoon corn starch

2 tablespoons water

1 1/2 cups chicken Broth

1 small tomato, sliced into wedges

1/4 cup frozen edamame

1 large egg, beaten

Pinch of salt

1 tablespoon chopped scallions
Method
Mix the corn starch with the water, stir to mix well. Set aside.
Heat up a soup pot on medium heat and add the chicken broth. Bring it to boil, add the tomatoes and edamame.
Add the corn starch mixture into the soup, stirring continuously. As soon as it thickens, add the beaten egg and the salt. Let sit for 10 seconds before stirring. Add the udon noodle from Annie Chun's Udon Soup bowl and cook for 1 minute. Top the noodle soup with the chopped scallions and serve immediately.