Tofu Katsu Ramen
This vegan tofu katsu ramen will satisfy all your takeout cravings! Ready in just 18 minutes.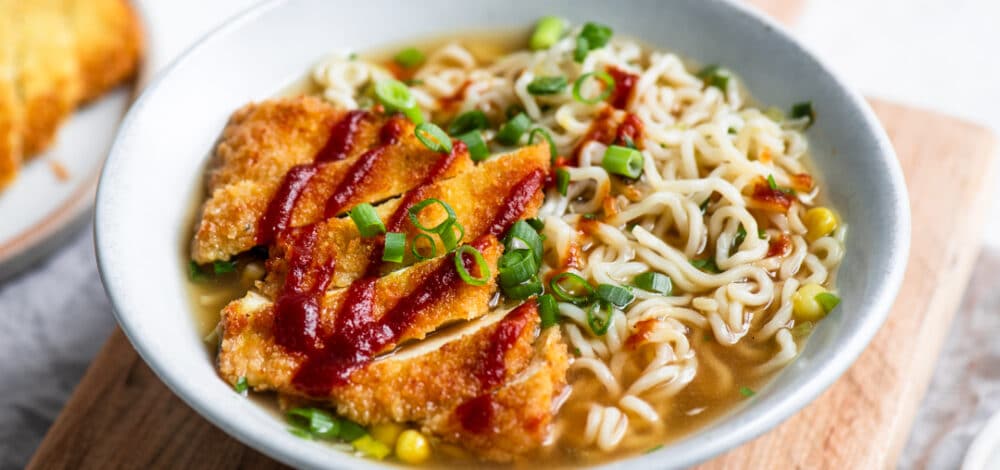 Recipe Serves
6
Minutes Prep
10
Minutes Cook
8
Total Minutes
18
Difficulty: easy
Ingredients
1 block extra or super firm tofu
¼ cup flour
¼ teaspoon salt
Freshly ground black pepper
⅓ cup plant milk
2 tablespoons ground flax
1 tablespoon mirin (optional)
1 cup panko breadcrumbs
Oil to fry
6 packs Annie Chun's Shoyu Ramen Soup Bowl
Tonkatsu Sauce or Sriracha
Scallion greens, for garnish
Method
Cut tofu into 6 slices width wise.
In one bowl combine flour, salt, and pepper. In a second bowl mix together the plant milk and flax and let sit for 5-10 minutes to thicken. Spread the panko breadcrumbs on a plate.
Dip each piece of tofu into the flour mixture, followed by the milk mixture, and lastly the panko.
Heat ½-inch of oil in a skillet over medium heat. When hot fry the tofu in batches. Cook for 3-4 minutes flipping halfway through, or until golden brown on each side.
Slice the katsu cutlets on a bias and top over prepared ramen soup bowls. Drizzle on some tonkatsu sauce or sriracha and garnish with scallion greens.