Tofu Katsu Ramen
Take ramen to a whole ne level by adding tofu katsu, a deliciously crunchy topping that will give you a boost of protein.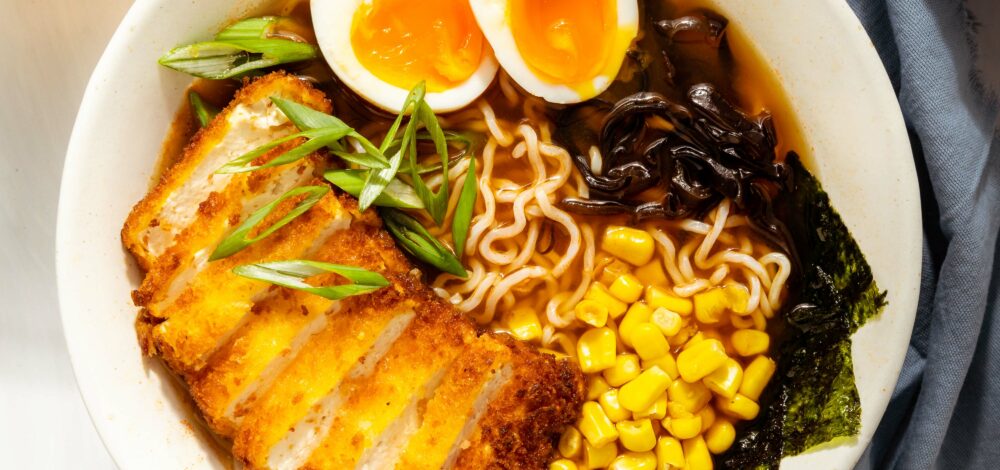 Recipe Serves
2
Minutes Prep
15
Minutes Cook
15
Total Minutes
30
Difficulty: medium
Ingredients
2 packages Annie Chun's Tonkotsu Ramen
1 pound firm tofu
Salt & pepper
¼ cup flour
1 egg, whisked*
½ cup panko bread crumbs
Vegetable oil, for frying
Method
Remove tofu from package and drain water. Wrap in paper towel and place on cutting board and top with heavy plate or container. Allow tofu to drain for about 15 minutes.
Unwrap tofu and cut in half, width-wise. Place tofu pieces in container and freeze overnight.
To eat, thaw tofu in fridge. Squeeze to drain any excess liquid. Season with salt and pepper.
Coat each piece in flour first, then egg and then panko. Press down to get all slides well coated.
Fry in oil (350ºF) for about 3-4 minutes on each side or until golden brown. Transfer to wire rack to drain oil.
Cook Annie Chun's Tonkotsu Ramen according to package instructions. Top with tofu katsu, seaweed and soft-boiled egg.
*Egg can be substituted with a plant-based option like plant-based egg, aquafaba or oat milk.