Thai Steak Salad with Maifun Noodles Two Ways
Try adding some extra crunch to your Thai steak noodle salad with crispy-fried Maifun noodles.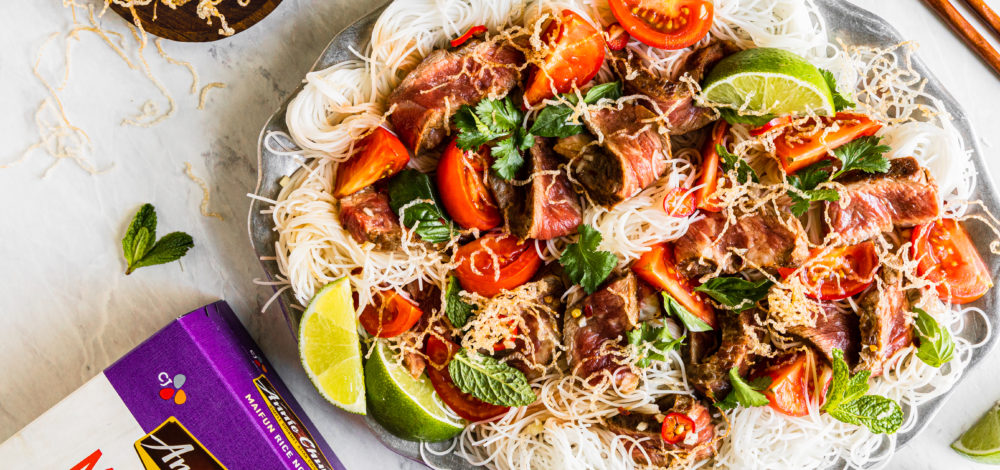 Recipe Serves
2
Minutes Prep
20
Minutes Cook
5
Total Minutes
25
Difficulty: easy
Ingredients
1½ tablespoons fish sauce
1½ tablespoons brown sugar
2 limes juiced
1 clove garlic, minced
½ fresno red chilli, sliced
1 teaspoon Kosher salt
1 pack Annie Chun's Maifun Rice Noodles
1 pound rib eye steak, fat trimmed
1 teaspoon kosher salt
2 tablespoons olive oil
1 cup cherry tomatoes, cut into wedges
½  bunch mint leaves, roughly chopped
½  bunch cilantro leaves, roughly chopped
½  bunch Thai basil, roughly chopped
Fried Annie Chun's Maifun Rice Noodles, to top (optional)
Vegetable oil, for frying (optional for fried noodles)
Method
Cook the Maifun Rice Noodles in a pot of boiling water according to package directions. Drain, rinse, and set aside.
In a bowl, add fish sauce, brown sugar, lime juice, garlic, fresno red chili, and salt. Mix until well combined and set aside.
Bring steak to room temperature and pat dry with a paper towel. Season on both sides with kosher salt.
Heat oil in a skillet over medium heat, add steak and sear for 2 minutes on each side, until an instant-read thermometer inserted in the thickest part of steak reads 130ºF (medium rare). Rest for 5 minutes. Slice into ¼ inch slices.
Optional: For crunchy fried noodle topping, heat oil to 350°F in a pot over medium heat. Drop dry noodles gently into oil for 3 seconds until noodles are puffed. Using a spider strainer, remove fried noodles from onto a paper towel lined plate to drain any extra grease.
On a platter, add cooked maifun noodles. Scatter steak slices and tomato wedges evenly over the noodles. Drizzle dressing over the platter, then sprinkle with mint, cilantro, and Thai basil. Top with crispy fried noodles and serve immediately.