Thai Peanut and Chicken Curry
Rich, creamy and authentic chicken curry made with Annie Chun's Thai Peanut Sauce; a true curry in a hurry that you can whip up in less than 20 minutes!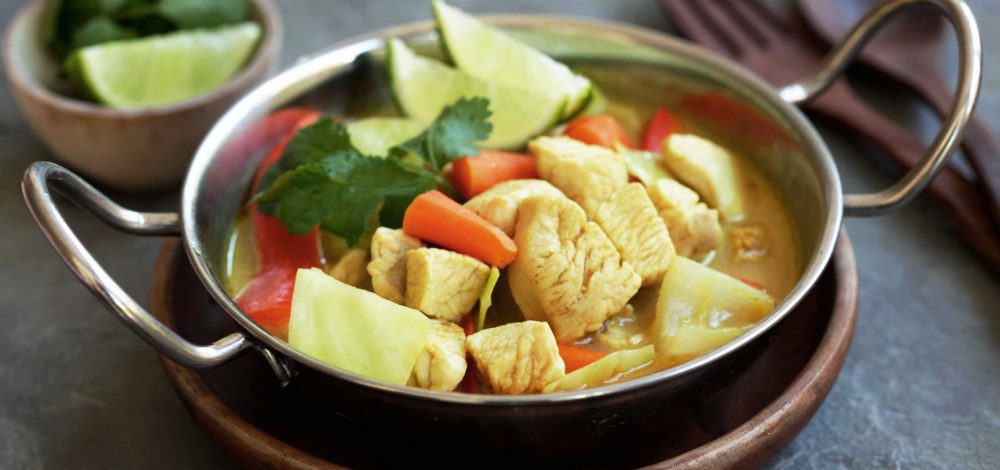 Recipe Serves
3
Minutes Prep
10
Minutes Cook
10
Total Minutes
20
Difficulty: medium
Ingredients
12 oz. skinless and boneless chicken breast
1 tablespoon cooking oil
¼ small onion, cut into pieces
¼ cup baby carrots, cut into halves
1 cup sliced cabbage
2 cups (1 can 14.5 oz.) chicken both
1 ½ tablespoons curry powder
¼ cup coconut milk
Salt, to taste
1 tablespoon lime juice
1 tablespoon cilantro
Cilantro leaves, for garnishing
Method
Cut the chicken breast into bit-sized cubes.
Heat up a small pot on medium heat and add the oil. When the oil is heated, sauté the onion until softened, follow by the chicken. Cook the chicken until the surface turns white, about 1 minute. Add the carrots, cabbage, chicken broth, Annie Chun's Thai Peanut Sauce, curry powder and coconut milk. Turn the heat to low and simmer for about 10 minutes. Turn off the heat, add the salt, lime juice, and cilantro. Serve immediately. Recommended to be served with rice.