Teriyaki Tofu Spring Rolls
Filled with marinated teriyaki tofu and fresh, crisp vegetables, these vegan spring rolls are great for a light meal or served as an appetizer!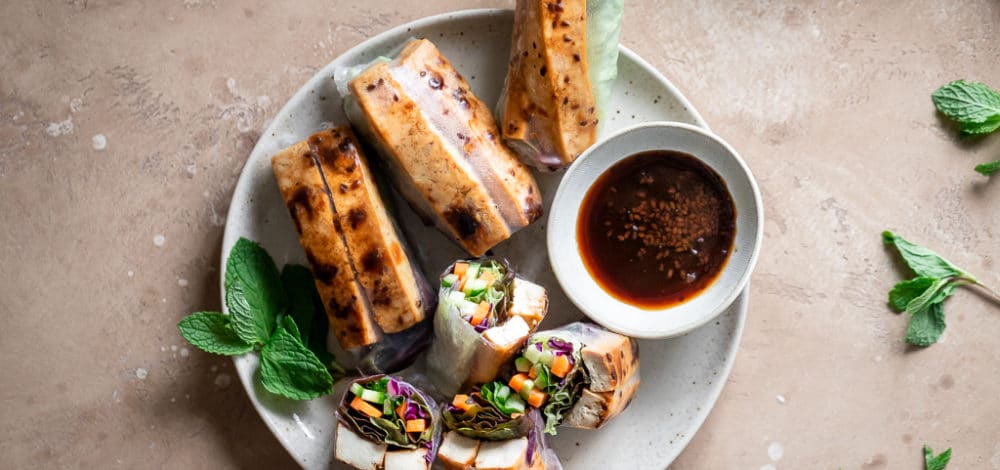 Recipe Serves
5
Minutes Prep
30
Minutes Cook
25
Total Minutes
55
Difficulty: medium
Ingredients
1 14 oz. block extra-firm tofu
3 tablespoons Annie Chun's Teriyaki Sauce
1 tablespoon cornstarch
1 tablespoon rice vinegar
1 clove garlic, minced
½ teaspoon sesame oil
Cooking spray or oil
10 spring roll wraps
2 cups leafy lettuce
1 large carrot, julienned
½ cucumber, julienned
½ cup red cabbage, thinly sliced
About 30 mint leaves
Method
Drain water out of the tofu by pressing on it with paper towels or using a tofu press.
Preheat oven to 375 degrees. Lightly grease a baking sheet with cooking spray or oil.
In a shallow bowl, whisk together the teriyaki sauce, cornstarch, vinegar, garlic, and sesame oil. Cut tofu into 20 slices, add to the bowl, and toss to combine. Marinate for 15 minutes.
Place tofu in a single layer on the baking sheet. Bake for 25 minutes.
Add warm water to a skillet or shallow dish. Have a separate damp plate ready. Dip each spring roll wrapper in the water for 15 seconds, then transfer to the damp plate and spread out the edges.
Place 2 slices of tofu along with some lettuce, carrot, cucumber, cabbage, and a few mint leaves in the center of the wrap. Tuck in the edges, fold one side over tightly, and continue to roll. Place seam side down on a plate. Repeat with remaining spring roll wrappers. Serve with additional teriyaki sauce for dipping.