Teriyaki Shrimp Noodles
Give your favorite Teriyaki a tasty makeover with Annie Chun's Brown Rice Noodles and Teriyaki Sauce, with lots of shrimp!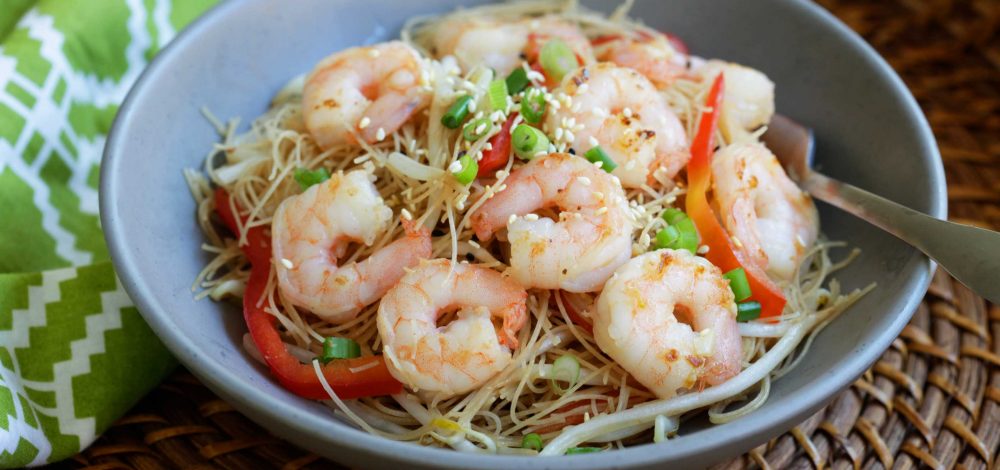 Recipe Serves
4
Minutes Prep
15
Minutes Cook
5
Total Minutes
20
Difficulty: medium
Ingredients
10 oz. peeled and deveined shrimp

2 tablespoons oil

4 cloves garlic, minced

8 oz. bean sprouts

1 small red bell peppers, seeded and sliced into strips

Salt, to taste

1 tablespoon chopped scallion

White sesame, for garnishing
Method
Soak the Annie Chun's Brown Rice Noodles in hot water for 8 minutes or until tender. Drain and rinse under cold water and set aside.
Heat up a skillet on medium heat and add the oil. When the oil is heated, sauté the garlic until aromatic, followed by the shrimp, and cook thoroughly. Add the bean sprouts, red bell peppers, brown rice noodles, Annie Chun's Teriyaki Sauce and salt to taste. Top with the scallions and white sesame, serve immediately.