Teriyaki Salmon with Mango Salsa
Mango salsa is exactly what your weeknight salmon is missing. Try this thick salmon filet coated in sweet teriyaki sauce paired with a juicy fresh fruit salsa for a Caribbean flair!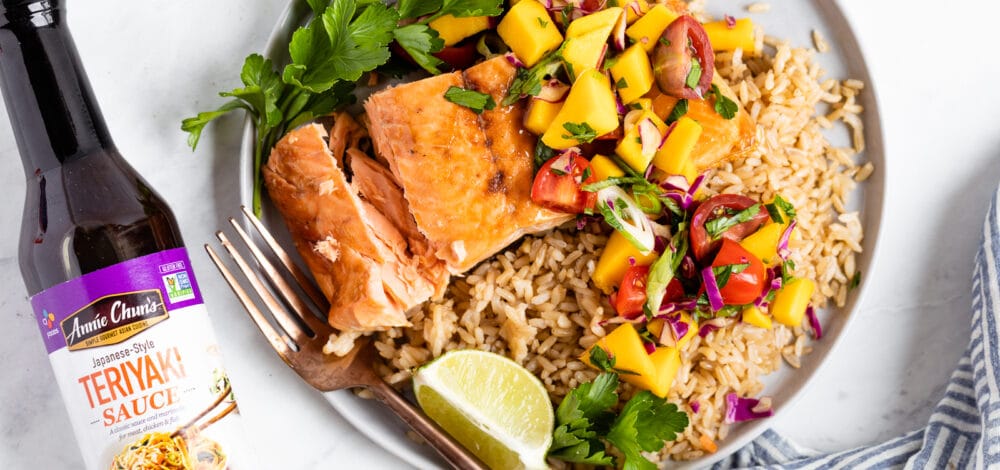 Recipe Serves
2
Minutes Prep
5
Minutes Cook
15
Total Minutes
20
Difficulty: easy
Ingredients
2 4-ounce salmon fillets
1 tablespoon olive oil
¼ cup Annie Chun's Teriyaki Sauce
1 mango, diced
½ cup cherry tomatoes, diced
1 scallion, minced
½ lime, juiced
1 teaspoon sriracha, to taste
½ teaspoon salt, to taste
2 packages Annie Chun's Brown Rice
Method
Preheat the oven to 400°F.
Pat the salmon dry and season both sides with salt and pepper.
Heat a large oven-safe skillet over medium heat. Add the olive oil. When hot, gently place the salmon into the skillet skin side down. Brush the fillets with the teriyaki sauce and sear for 3 minutes, until the skin is crisp.
Transfer the skillet to the oven and cook for 7-10 minutes, until cooked through and the flesh is flaky.
Meanwhile, combine the mango, tomatoes, scallion, lime juice, sriracha, and salt in a small bowl. Season to taste.
Heat the brown rice in the microwave according to package instructions.
To serve, divide the brown rice between plates. Top with a salmon fillet and mango salsa.