Teriyaki Beef Bowls with Cucumber and Avocado
Healthy, but make it fun!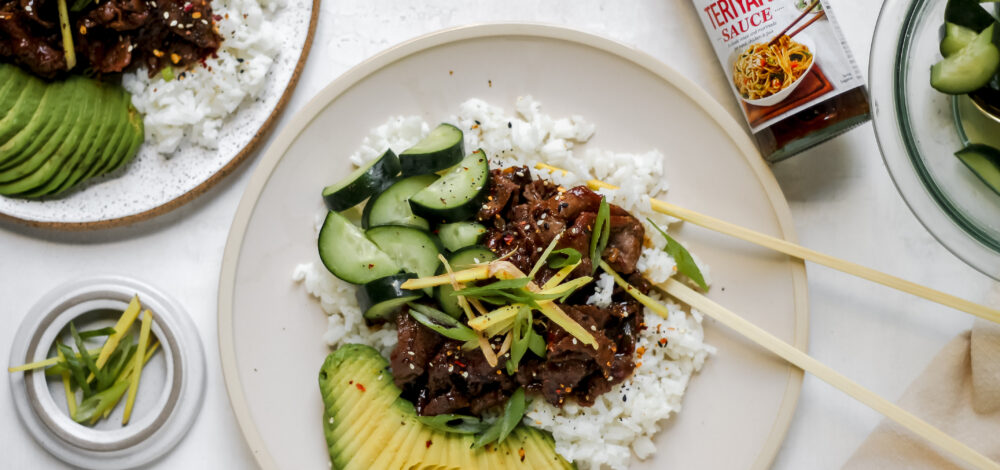 Recipe Serves
1
Minutes Prep
5
Minutes Cook
20
Total Minutes
25
Difficulty: easy
Ingredients
1 cup Annie Chun's Teriyaki Sauce
1 lb sliced flank steak
1 cucumber, halved lengthwise and thinly sliced into moons
1 avocado, thinly sliced
¾ cup jasmine rice
1 tsp sugar
1 tbsp seasoned rice vinegar
2 scallions, thinly sliced with white & green parts separate
Shichi-mi tōgarashi, for garnish
Salt & pepper to taste
Method
Combine cucumber with rice vinegar, sugar, and a pinch of salt. Set aside to marinate.
Add the rice and 1 ½ cups of water to a pot. Bring to a boil then lower to a simmer, cover and cook for 15 minutes or according to package instructions.
In a heated wok with a drizzle of oil, add the sliced beef and white parts of scallions. Cook until beef is browned but not cooked through, then add in Annie Chun's Teriyaki Sauce. Season to taste with salt & pepper and simmer for a few minutes until beef is coated and sauce has slightly thickened.
Serve with rice, avocado, and garnish with green parts of scallions and Shichi-mi tōgarashi.