Tempeh Peanut Noodles
Here's the perfect recipe to turn you into a tempeh lover! Peanut-y noodles pair with chewy tempeh for an easy and totally nourishing meal.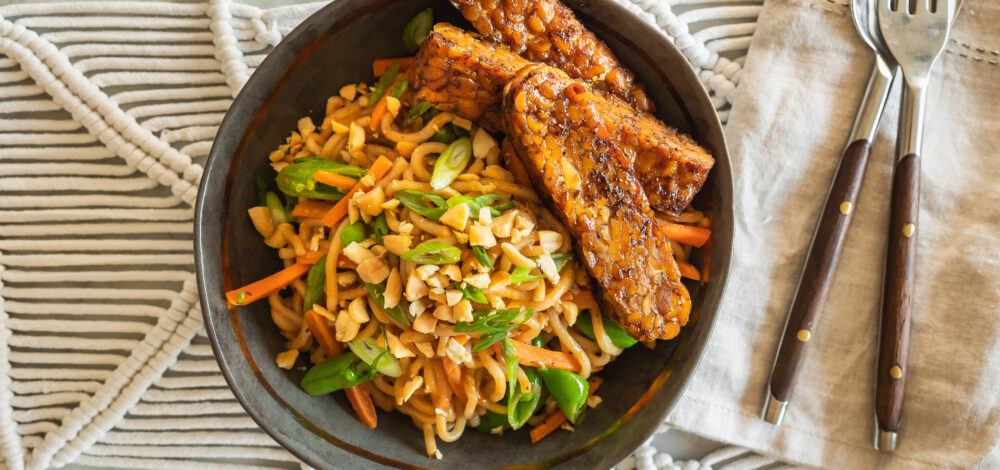 Recipe Serves
2
Minutes Prep
5
Minutes Cook
15
Total Minutes
20
Difficulty: easy
Ingredients
3 tablespoons vegetable oil, divided
½ teaspoon garlic powder
1 tablespoon soy sauce or coconut aminos
½ cup chopped carrots
½ cup chopped snap peas
Pinch of salt
1 block tempeh, sliced
1 pack Annie Chun's Organic Hokkien Noodles
½ cup Annie Chun's Peanut Sauce
¼ cup chopped scallions
2 tablespoons chopped peanuts
Method
Heat 1 tablespoon oil to a large skillet over medium heat. Add carrots and snap peas and season with salt. Cook for about 4-5 minutes, stirring. Remove from skillet and set aside.
Add 1 tablespoon oil, garlic powder, and soy sauce to the skillet. Add tempeh and sauté on all sides until warmed through. Remove from skillet and set aside.
Reduce heat to medium-low heat. Add the last remaining tablespoon of oil to the skillet with Hokkien noodles and peanut sauce. Cook until noodles have softened, about 5 minutes. Stir in reserved vegetables.
Transfer noodles to bowls and top with tempeh slices. Garnish with scallions and peanuts.