Tahini Summer Noodles
This summer noodle is perfect for hot days when easy recipes with minimal clean up are all you want to do!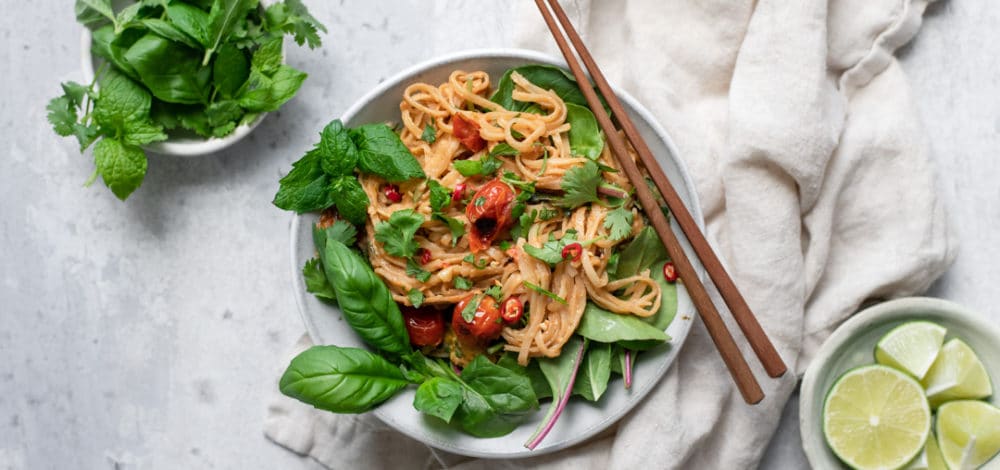 Recipe Serves
4
Minutes Prep
7
Minutes Cook
8
Total Minutes
15
Difficulty: easy
Ingredients
2 cups water
¼ cup tahini
3 tablespoons fresh squeezed lime juice
2 tablespoons tamari
1 tablespoon maple syrup or coconut sugar
3-4 cloves garlic, minced
1-4 thai chili peppers, minced
1 tablespoon oil
1 pint cherry tomatoes
1 pack Annie Chun's Pad Thai Rice Noodles
4 cups baby salad greens
2 tablespoons chopped fresh mint
¼ cup chopped cilantro
¼ cup chopped basil
Salt and pepper, to taste
Extra herbs, to garnish
Lime wedges, to serve
Method
Mix together water, tahini, lime juice, tamari, maple syrup, garlic, and thai chili peppers. Set aside.
Heat a large pan over high heat. Add the oil, cherry tomatoes, and a pinch of salt and quickly cover, being careful of oil. Let cook until tomatoes are charred in spots and softened, about 3 minutes, stirring once or twice.
Add the dry noodles and sauce. Cover the pan and bring it to a low boil. Let cook until the noodles are tender, about 5 minutes. Stir occasionally, more frequently towards the end as the sauce thickens. Turn off heat and add fresh herbs. Add salt and pepper to taste.
Divide noodles into four bowls. Top with baby salad greens and add extra fresh herbs to garnish. Serve with lime wedges.