Szechuan Noodles with Garlic Shrimp
Dress up your fresh udon noodles with bold and garlicky shrimp and a drizzle of fragrant chili oil.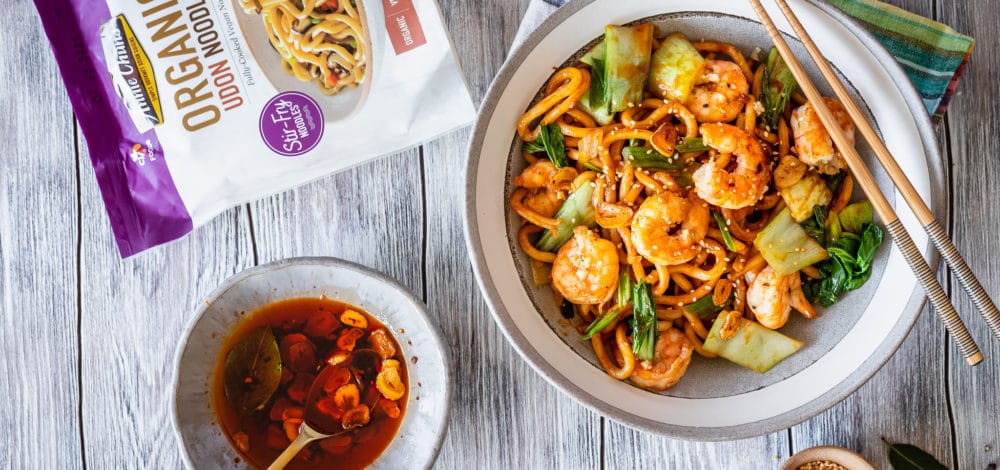 Recipe Serves
2
Minutes Prep
20
Minutes Cook
20
Total Minutes
40
Difficulty: easy
Ingredients
⅓ cup vegetable oil
4 cloves garlic, thinly sliced
1 bay leaf
1 teaspoon black peppercorns
1-2 teaspoon Chinese chili flakes
¼ cup soy sauce
2 tablespoons rice vinegar
1 tablespoon honey
1 tablespoon chili paste (sambal oelek)
2 tablespoons vegetable oil, divided
2 cloves garlic, chopped
½ pound shrimp
4 green onions, chopped, plus more for serving
4 baby bok choy, chopped
1 pack Annie Chun's Organic Udon Noodles
Toasted sesame seeds, for garnish
Method
To make the chili oil, heat a large skillet over medium heat. Add ⅓ cup vegetable oil, sliced garlic, bay leaf, peppercorns, and chili flakes. Cook, stirring occasionally until the garlic is fragrant, about 5 minutes. Remove from the heat and very carefully transfer the oil to a heat proof bowl or glass jar. Set aside.
Combine soy sauce, vinegar, honey, chili paste, and 2 tablespoons of water in a bowl.
Place the skillet over medium-high heat. Add 1 tablespoon vegetable oil, chopped garlic, and shrimp. Season with salt and black pepper and cook, about 5 minutes. Transfer cooked shrimp to a bowl.
Add remaining tablespoon of vegetable oil to the skillet. Add the green onions and bok choy and cook for 2-3 minutes.
Slowly pour in the soy sauce mixture. Bring the mixture to a simmer.
Add the noodles and return the shrimp to the skillet. Cook until the sauce coats the noodles, about 3-5 minutes.
Stir in 2 tablespoons of the chili oil. Remove from the heat. Serve the noodles warm, topped with additional chili oil and toasted sesame seeds.