Sweet Chili-Teriyaki Cashew Chicken
Our sauces bring major flavor with no extra ingredients, complicated recipe steps or extra dishes!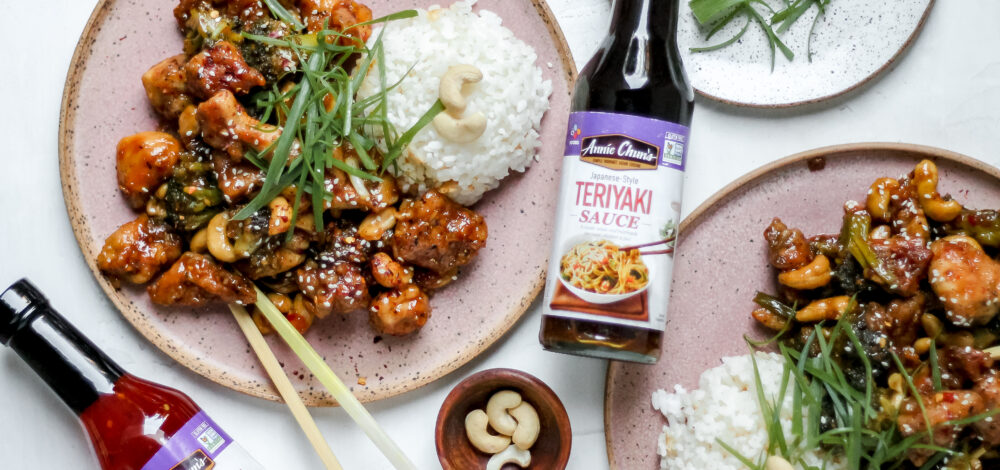 Recipe Serves
1
Minutes Prep
10
Minutes Cook
20
Total Minutes
30
Difficulty: easy
Ingredients
6 oz. bite-sized broccoli florets
2 scallions, thinly sliced with white and green parts separated 
¾ cup jasmine rice, cooked according to package instructions
1 lb boneless skinless chicken, cubed
2 Garlic Cloves, minced
1 tbsp minced ginger
3 Tbsp. Cornstarch
1/4c Annie Chun's Sweet Chili Sauce
¼ c Teriyaki Glaze
⅓ c Roasted Salted Cashews
Salt & pepper to taste
Method
Toss cubed chicken with salt, pepper and cornstarch until fully coated. Line a plate with a power towel and heat 2 tbsp refined avocado oil on a skillet over medium heat.
Once the oil is shimmering, add chicken to the hot pan and stir occasionally until golden brown on all sides (6-10 minutes, make sure you let the chicken crisp on each side before flipping). Using a slotted spoon, place the cooked and crisped chicken on the paper towel-lined plate to rest.
Gently wipe the pan and replenish with oil. Add the white parts of the scallions and broccoli for 2-4 minutes, until softened. Add ¼ cup water, garlic, and ginger. Stir once in a while until broccoli is tender and garlic/ginger is thoroughly combined, 5-8 minutes. If water evaporates before broccoli is tender, add more water 1/8c at a time, as needed. 
Stir in sweet chili sauce, teriyaki sauce, cashews, and crisped chicken. Bring to a rapid simmer and stir until thickened and all ingredients are coated.
Top with scallions and serve over rice.