Sweet Chili Stir Fry with Pineapple, Tomato, and Green Bell Pepper
Healthy and tasty, all in one dish!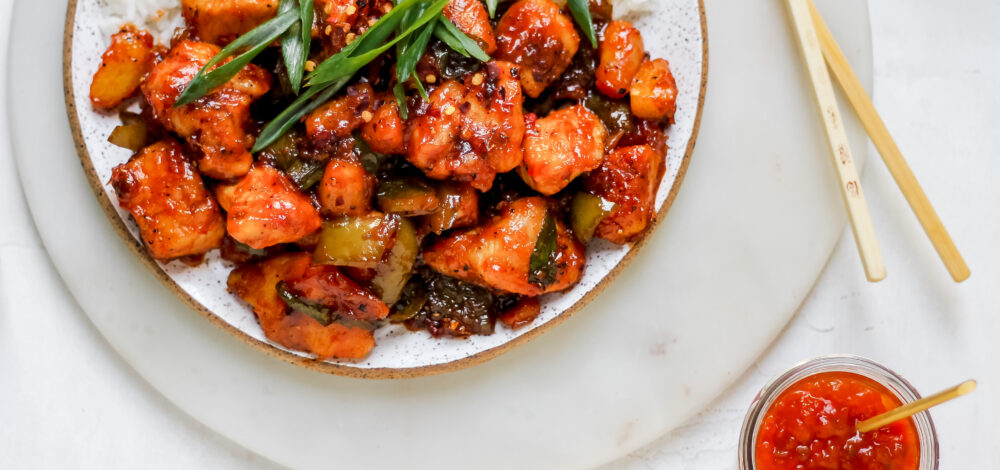 Recipe Serves
1
Minutes Prep
10
Minutes Cook
15
Total Minutes
25
Difficulty: easy
Ingredients
2 scallions, thinly sliced with greens & whites separated 

1 lb tofu or cubed chicken breast

1 tbsp arrowroot starch

¾ cup Jasmine Rice, cooked according to package instructions

1 Green Bell Pepper, cubed

1 Shallot, finely chopped

⅓ c Pineapple Chunks, roughly chopped

2 tsp. Tomato Paste

2 tbsp Tamari Soy Sauce

¼ c Annie Chun's Sweet Chili Sauce

¼ c water 

Salt & pepper

Chili flakes (optional)
Method
Toss dried and cubed protein in cornstarch, then season to taste with salt & pepper. Heat 1-2 tbsp of avocado oil on a skillet and cook the protein. Set aside on a paper towel lined plate.
In the same skillet, toss the white parts of the scallions, green bell pepper, shallot, and pineapple chunks over medium heat (replenish oil if needed) and cover for 3-4 minutes, until softened. Add in the tomato paste, tamari, sweet chili sauce, and ¼ c water, then season to taste with salt and pepper. Simmer for 5-7 minutes, or until the sauce has thickened.
When ready to serve, season to taste with salt & pepper and coat the cooked protein in the sauce. Place over rice and garnish with green parts of scallions.