Spicy Teriyaki Chicken Stir-Fry
Simple and authentic Asian chicken stir-fry with Annie Chun's Teriyaki and Gochujang sauces – a perfect balance of savory and spicy!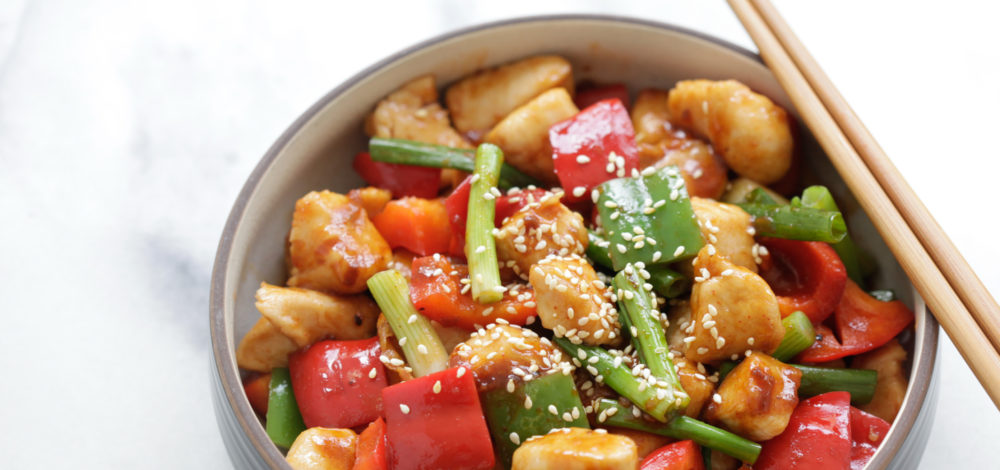 Recipe Serves
4
Minutes Prep
15
Minutes Cook
5
Total Minutes
20
Difficulty: easy
Ingredients
1 1/2 lbs boneless and skinless chicken breast
1 tablespoon corn starch
1 tablespoon Asian rice wine (Japanese cooking sake or Chinese rice wine)
1/4 teaspoon salt
1/4 cup Annie Chun's Teriyaki Sauce
1 tablespoon Annie Chun's Go-Chu-Jang
1 1/2 tablespoons oil
1-inch piece ginger, peeled and sliced
1 small red bell pepper, seeded and cut into pieces
1 small green bell pepper, seeded and cut into pieces
3 stalks scallions, trimmed and cut into 2-inch strips
White sesame, for garnish
Method
Marinate the chicken with corn starch, rice wine and salt. Stir to coat well. Set aside.
Prepare the sauce by whisking the Annie Chun's Teriyaki Sauce with the Go-Chu-Jang until they are well combined. Set aside.
Heat up a skillet on high heat. Add the cooking oil. When the oil is heated, saute the ginger until aromatic, then add the chicken. Stir fry the chicken until the chicken turns white on the surface. Add the red and green bell peppers, toss and stir fry until you smell the aroma from the peppers. Add the sauce and continue to stir fry until the sauce slightly thickens. Add the scallion, toss a few times. Turn off the heat and transfer the chicken to a serving platter. Garnish the chicken with the white sesame and serve immediately with steamed rice.