Spicy Miso Soup Bowl
Jazz up your Annie Chun's Miso Soup Bowl with Go-chu-jang and add healthy toppings for a quick, easy and delicious meal at home!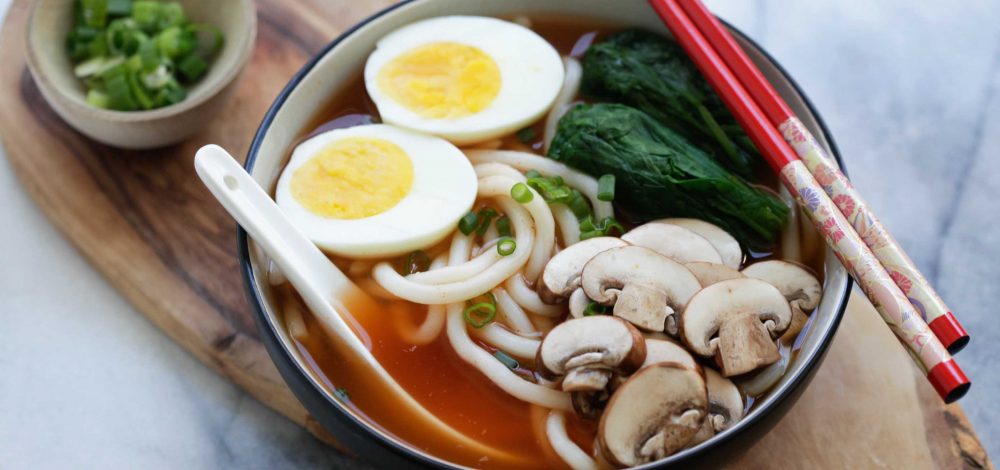 Recipe Serves
1
Minutes Prep
10
Minutes Cook
20
Total Minutes
30
Difficulty: easy
Ingredients
1 large egg

2 cups Spinach

1/2 cup sliced baby Portobello mushooms

Baby Portobello mushroom, sliced

Chopped scallions
Method
Place the egg in a pot and add cold water. Make sure the water covers the egg by at least 1 inch. Bring it to a boil. Remove from heat and let sit for 8 minutes. Drain, cool in cold water and peel off the shell. Cut the egg into halves.
Bring a small pot of water to boil. Add the spinach and cook for 10 seconds. Drain the spinach, squeeze the water out, and cut into 2-inch bunches.
Open Annie Chun's Miso Soup Bowl and place the noodles, dry toppings and soup base in the bowl, and add mushrooms and Annie Chun's Go-chu-jang sauce. Add water to the water line and place lid loosely over the bowl.
Microwave on high for 2 minutes. Stir well. Add the hard-boiled egg and spinach, garnish with the chopped scallions and serve immediately.