Soy Curl Peanut Jerky Snack Mix
Make your own vegan jerky snack mix at home! A delicious homemade treat with the perfect mix of savory and sweet.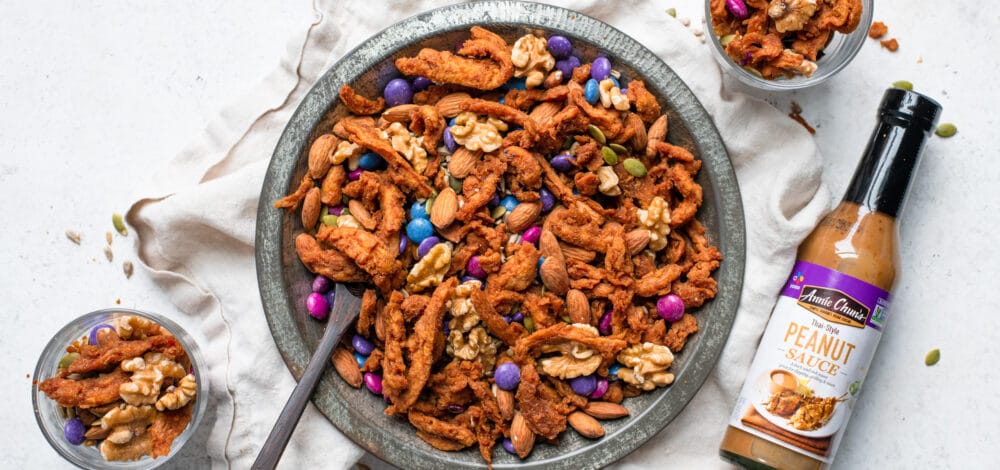 Recipe Serves
5
Minutes Prep
10
Minutes Cook
70
Total Minutes
80
Difficulty: easy
Ingredients
4 oz soy curls (2 cups dry)
½ cup Annie Chun's Thai-Style Peanut Sauce
2 tablespoons canola oil
1 tablespoon soy sauce
1 tablespoon sriracha
1½ teaspoon liquid smoke
½ teaspoon garlic powder
½ teaspoon salt
½ cup walnut halves
½ cup whole almonds
¼ cup sunflower seeds
¼ cup pumpkins seeds
½ cup chocolate candies or chocolate chips
Method
Preheat the oven to 225 ºF and cover soy curls in room temperature water and let sit for 10 minutes. Drain off the water, then squeeze out as much water as you can from the soy curls.
Whisk together the peanut sauce, oil, soy sauce, sriracha, liquid smoke, garlic powder, and salt. In a mixing bowl toss together the sauce and soy curls, then spread onto a baking tray. Bake 60-70 minutes, stirring every 15 minutes, until soy curls are chewy. Let cool.
Combine cooled soy curl jerky, the nuts and seeds (or substitute 1½ cups mixed nuts), and chocolate candy. Serve immediately or store in a sealed container at room temperature for a day or two, or longer in the fridge.