Shiitake Mushroom Dumplings with Honey Teriyaki Sauce
Homemade dumplings with a toasty sesame crust on the bottom, dipped in honey ginger teriyaki sauce. A real game changer.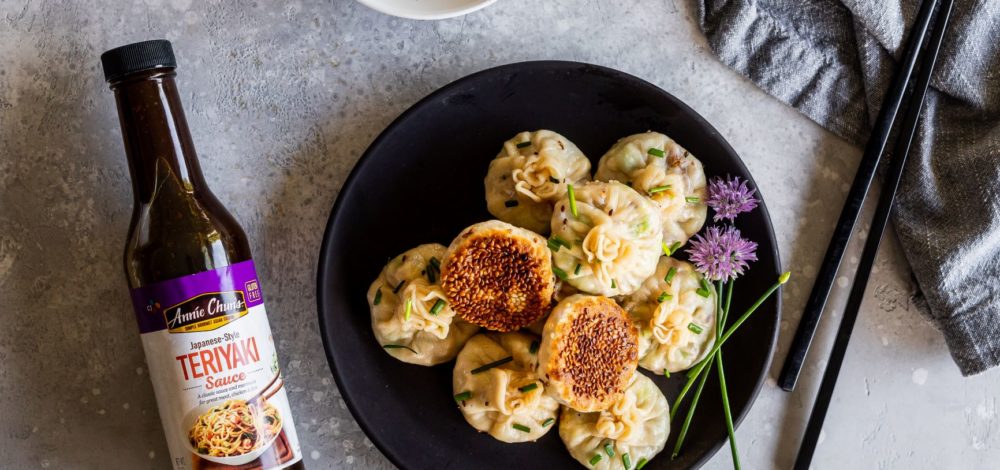 Recipe Serves
6
Minutes Prep
35
Minutes Cook
10
Total Minutes
45
Difficulty: medium
Ingredients
2 tablespoons Annie Chun's Teriyaki Sauce
1 tablespoon honey
1 tablespoon rice vinegar
1 teaspoon sesame chili oil (optional)
¼ teaspoon sesame seeds
½ medium-sized napa cabbage or white cabbage
½ teaspoon  plus 1 teaspoon salt
12 shiitake mushrooms, finely chopped
1 teaspoon freshly grated ginger
1 clove garlic, minced
1 small shallot
1 scallion, finely chopped
1 teaspoon toasted sesame oil
½ teaspoon black pepper
24 round dumpling wrappers
¼ cup sesame seeds
2 tablespoons vegetable oil
Method
To make the sauce, whisk together teriyaki sauce, honey, rice vinegar, sesame chili oil, and sesame seeds. Set aside.
Place the cabbage in a mixing bowl and add ½ teaspoon salt, mixing to combine. Let sit for 10-15 minutes; squeeze out any excess liquid. Add mushrooms, shallot, ginger, garlic, scallion, sesame oil, remaining teaspoon salt, and pepper. Mix to combine and set aside.
Spoon 2 teaspoons of the filling onto the center of each wrapper. Bring up the sides of the wrapper and pinch closed to seal in the filling. Dip the bottom of each dumpling into a small bowl of water and then dip into a shallow bowl or plate filled with sesame seeds.
Heat vegetable oil in a large skillet over medium-high heat. Arrange the dumplings in the skillet, sesame side down. Cook until the bottoms are lightly browned, about 2 minutes. Add ¼ cup of water, cover, and cook until the filling is cooked through and water is evaporated, about 5 minutes.
Transfer to a plate, sprinkle with chives and serve with honey teriyaki dipping sauce.