Sesame Soy Mushroom Miso Soup Bowl
Dress up our Miso Soup Bowl with some fragrant sesame oil and soy sauce mushrooms for a healthy and delicious bowl of goodness.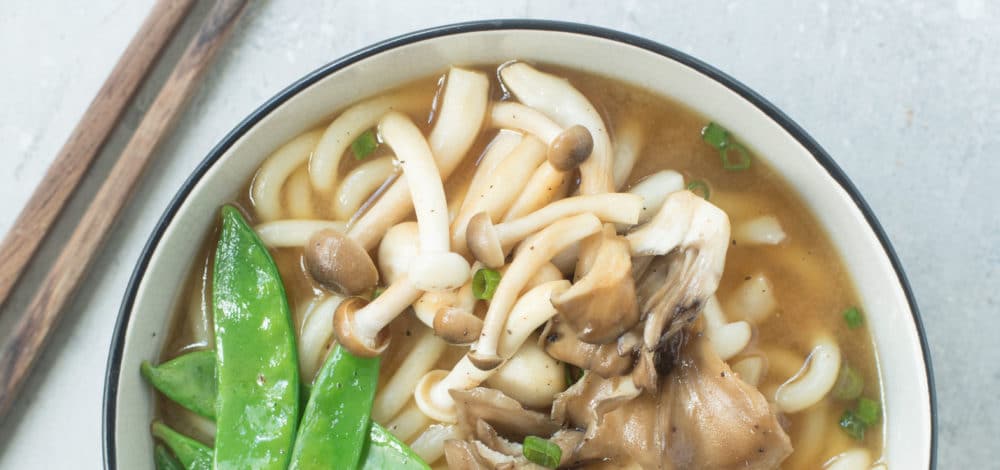 Recipe Serves
1
Minutes Prep
5
Minutes Cook
5
Total Minutes
10
Difficulty: easy
Ingredients
4 oz. assorted mushrooms (white, brown beech mushrooms and maitaki mushrooms)
1 oz. snow peas
1/2 teaspoon sesame oil
3/4 teaspoon low-sodium soy sauce
freshly ground black pepper
1/2 tablespoon chopped scallion
Method
Trim off the bottom part of the beech mushrooms and maitaki mushrooms.
Bring a small pot of water to boil. Cook the mushrooms and snow peas for 10 seconds. Drain and separate the mushrooms from the snow peas.
Transfer the mushrooms to a small bowl. Add the sesame oil, soy sauce and ground black pepper. Stir to combine well. Set aside.
Open Annie Chun's Miso Soup Bowl and place the noodles and soup base in the bowl. Discard the dry toppings package. Add water to the water line and place lid loosely over the bowl.
Microwave on high for 2 minutes. Stir well and transfer the noodle soup to a serving bowl. Add the sesame-soy mushrooms, snow peas and chopped scallion on top of the noodle soup. Serve immediately.