Sesame Noodle Soup with Crispy Miso Tofu
Creamy and nutty sesame broth meets crispy miso tofu in this udon noodle soup that warms you up from the inside out.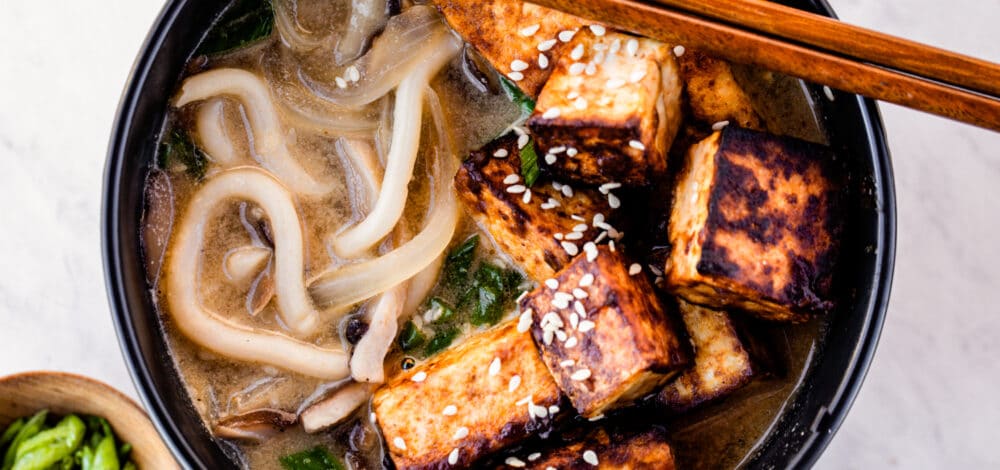 Recipe Serves
2
Minutes Prep
5
Minutes Cook
15
Total Minutes
20
Difficulty: easy
Ingredients
1 tablespoon white miso paste
3 tablespoons low-sodium soy sauce, divided
1 teaspoon chili garlic sauce, to taste
1 teaspoon sesame oil
1 tablespoon rice wine vinegar
7 ounces extra-firm tofu, drained and pressed for 30 minutes
3 tablespoons canola oil, divided
8 ounces shiitake mushrooms, sliced
1 white onion, sliced thinly
4 cups vegetable or chicken broth
2 tablespoons tahini
1 packs Annie Chun's Organic Udon Noodles
Sliced scallions, for garnish
Sesame seeds, for garnish
Method
In a small bowl, whisk together the miso paste, 2 tablespoons soy sauce, chili garlic sauce, sesame oil, and rice wine vinegar.
Cut the tofu into cubes.
Heat 1 tablespoon of the canola oil in a large skillet over medium-high heat. When the oil is hot, add half of the tofu, leaving space between the pieces. Sprinkle with salt and cook, undisturbed, until browned on one side. Flip and sear the other side. Repeat with the remaining tofu and another tablespoon of oil.
When all of the tofu is nicely browned, add it all back to the skillet. Turn off the heat and add the miso mixture, stirring until the tofu is well coated in the sauce.
Meanwhile, in a medium saucepan, heat the remaining tablespoon of canola oil over medium heat. When hot, add the mushrooms and onion and cook until softened, about 7 minutes. Add the broth and bring to a simmer. Dissolve the tahini and soy sauce into the broth and season to taste. Add the noodles until heated through, separating the noodles gently with tongs.
Divide the soup and noodles between two bowls. Top with crispy miso tofu and garnish with scallions and sesame seeds.