Sesame Miso Hummus with Seaweed Crisps
Seaweed crisps with sesame miso hummus make the perfect combo for a healthy and delicious snack to enjoy all day long.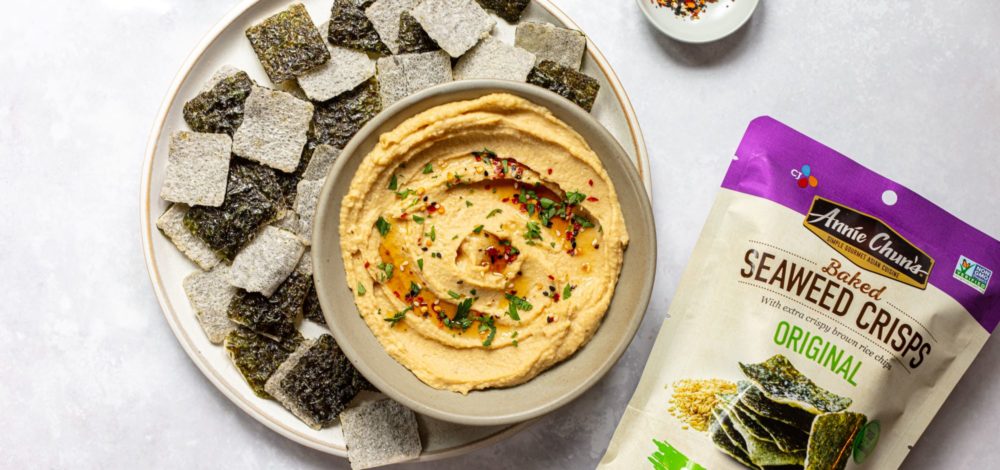 Recipe Serves
4
Minutes Prep
10
Minutes Cook
0
Total Minutes
10
Difficulty: easy
Ingredients
1 pack Annie Chun's Original Baked Seaweed Crisps
1 (15 oz) can chickpeas, drained
2 tablespoons white miso
2 tablespoons fresh lemon juice
3 tablespoons olive oil
1 tablespoon toasted sesame oil, plus more for serving
1 clove garlic, chopped
¼ teaspoon cayenne pepper
1 teaspoon shichimi togarashi (optional)
Chopped cilantro, for garnish
Method
To make the hummus, place the chickpeas, miso, lemon juice, olive oil, 1 tablespoon sesame oil, garlic, and cayenne pepper in a food processor. Process until smooth and creamy, about 1 minute.
Transfer the hummus to a small serving bowl, set on a platter. Drizzle with about a teaspoon of sesame oil on top of the hummus and sprinkle shichimi togarashi and cilantro. Arrange the Seaweed Crisps on the platter alongside the hummus and serve.
Recipe courtesy of Familystyle Food