Seitan Garlic Noodles
The perfect combo of chewy, savory, and garlicky. These aromatic vegan noodles are incredibly easy to make and full of flavor!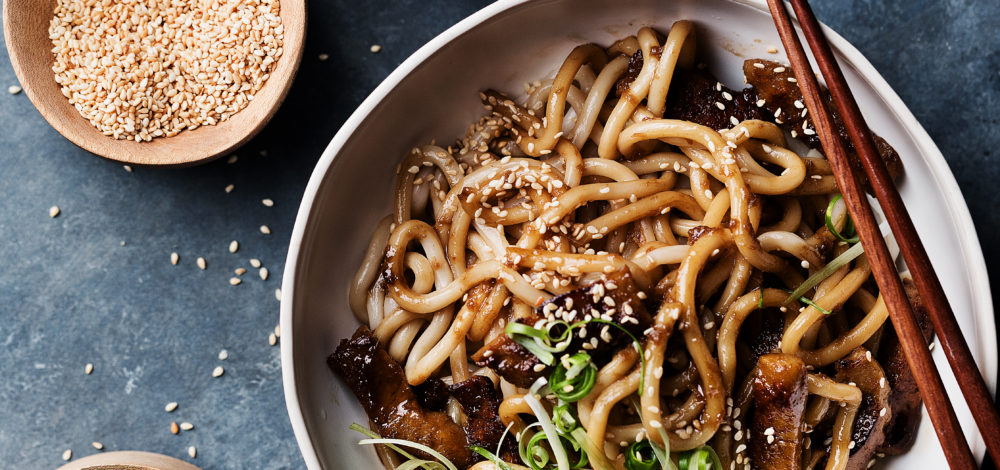 Recipe Serves
2
Minutes Prep
5
Minutes Cook
10
Total Minutes
15
Difficulty: easy
Ingredients
1 tablespoon cooking oil
3 cloves garlic, minced
8 ounces seitan strips
3 tablespoons soy sauce
2 tablespoons brown sugar
1 teaspoon sesame oil
2 packs Annie Chun's Organic Udon Noodles
Sliced scallions, to garnish
Sesame seeds, to garnish
Method
In a small bowl, combine brown sugar, soy sauce, and sesame oil. Mix together and set aside.
Heat a large skillet over medium heat. Add oil and garlic; cook for 1 minute until fragrant.
Add seitan strips and sauce mixture to skillet with a splash of water. Bring to a simmer and add udon noodles. Stir to coat and cook until sauce thickens, about 3-5 minutes.
Remove from heat and divide between two bowls. Sprinkle with sesame seeds and scallion slices to serve.