Rice Noodle Pumpkin Alfredo
Say hello to your new favorite pumpkin recipe! Creamy pumpkin alfredo made with silken tofu and cashews for a cozy vegan and gluten-free meal.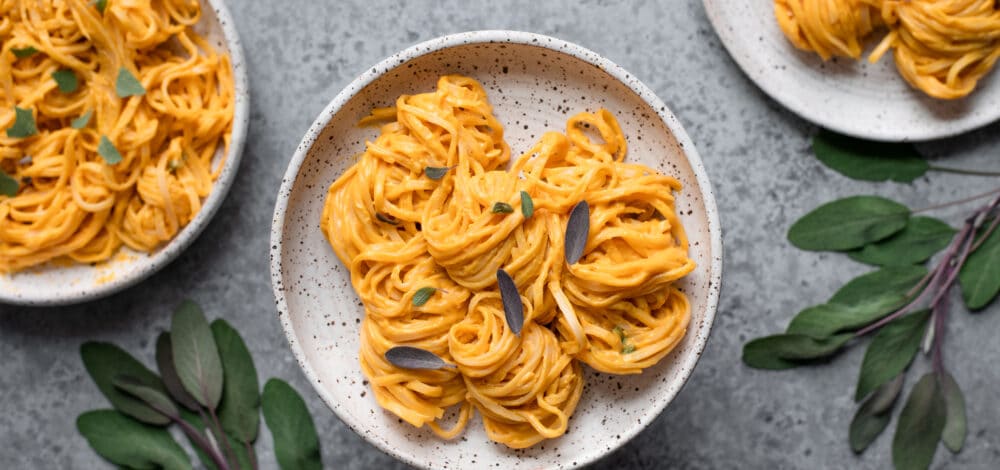 Recipe Serves
4
Minutes Prep
5
Minutes Cook
20
Total Minutes
25
Difficulty: easy
Ingredients
1 pack Annie Chun's Pad Thai Rice Noodles
1 cup pumpkin puree
1 cup (8 oz) silken tofu
½ cup raw cashews
1 cup unsweetened plain non-dairy milk
¼ cup vegan parmesan or 2 tbsp nutritional yeast
1 teaspoon white miso
⅛ teaspoon nutmeg
Salt and pepper to taste
1 tablespoon vegan butter or olive oil
2-3 cloves garlic, thinly sliced
1 tablespoon chopped fresh sage or 1 teaspoon dried, more for garnish
Method
Cook rice noodles according to package directions, until 1 minute shy of done (noodles should still be firm). Drain and rinse in cold water, then set aside.
In a blender, combine pumpkin puree, tofu, cashews, milk, vegan parmesan (or nutritional yeast), miso, nutmeg, ½ teaspoon of salt (more to taste), and pepper. Blend until smooth, pausing to scrape down as needed.
Heat a large skillet over medium-low heat and add vegan butter or olive oil. When warm, add the sliced garlic and let cook until a pale golden, about 2 minutes. Turn down the heat to low and add the sage. Stir and let sizzle about 15 seconds.
Slowly pour in the sauce and bring it to a simmer. Let cook until the sauce has thickened, about 5-7 minutes. Add salt, pepper, and vegan parmesan and/or nutritional yeast to taste.
Add the cooked noodles to the sauce and warm them in the sauce, letting them cook for about 1 minute or until the noodles are soft. Serve immediately, garnished with fresh sage and vegan parmesan.