Peanutty Sweet Potato Maifun Noodle Soup
A delightful combination of garlic, coconut milk, and peanut butter round out the flavors of this sweet potato noodle soup!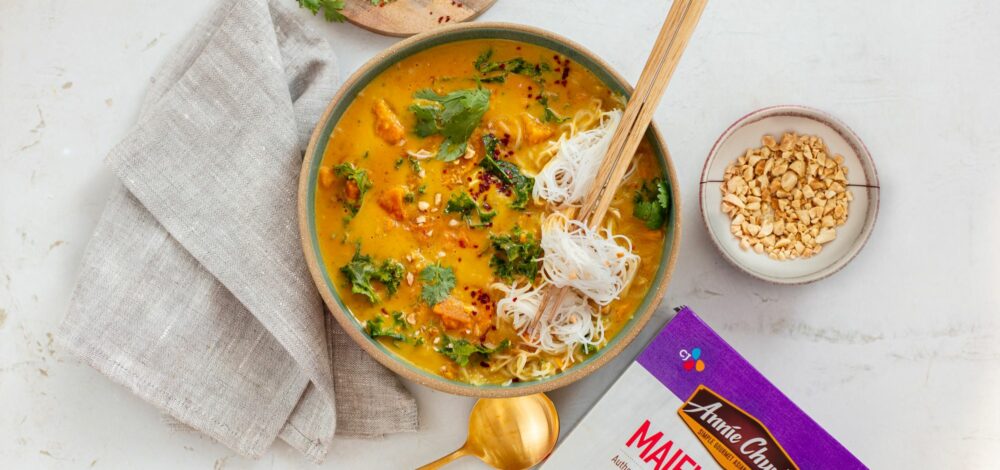 Recipe Serves
4
Minutes Prep
10
Minutes Cook
25
Total Minutes
35
Difficulty: medium
Ingredients
2 tablespoons vegetable oil
1 chopped shallot or ⅓ cup chopped red onion
14 ounces sweet potatoes, peeled, quartered lengthwise and sliced
1 teaspoon minced garlic
½ teaspoon ground turmeric
½ teaspoon cayenne pepper
1 tablespoon smooth peanut butter
1 tablespoon soy sauce
2 cups vegetable broth
1 cup coconut milk, divided
1½ cups chopped fresh kale
¼ cup Annie Chun's Peanut Sauce
½ pack Annie Chun's Maifun Rice Noodles
¼ cup chopped unsalted peanuts
Method
Heat oil in a large saucepan or Dutch oven over medium-high heat. Stir in the shallot and sweet potatoes. Cook 5 minutes, stirring occasionally, until the shallot is softened.
Add the garlic, turmeric, and cayenne and stir until fragrant, about 30 seconds. Add the peanut butter, soy sauce, broth, and ½ cup of the coconut milk. Bring to a simmer, then lower the heat and partially cover the pan with a lid. Cook 20 minutes, or until the sweet potatoes are very soft.
Scoop out 1 cup of the soup and puree in a blender or use an immersion blender right in the pot. Stir in the remaining ½ cup coconut milk, kale and peanut sauce.
Cook noodles according to package directions. Drain and divide into servings bowls.
Ladle the soup over the noodles and sprinkle with peanuts to serve.
Recipe courtesy of Familystyle Food