Peanut Tempeh Skewers
Enjoy summer by the grill with vegan peanut tempeh skewers! These delicious skewers are threaded with pineapples and jalapeños for the perfect kick of sweet heat.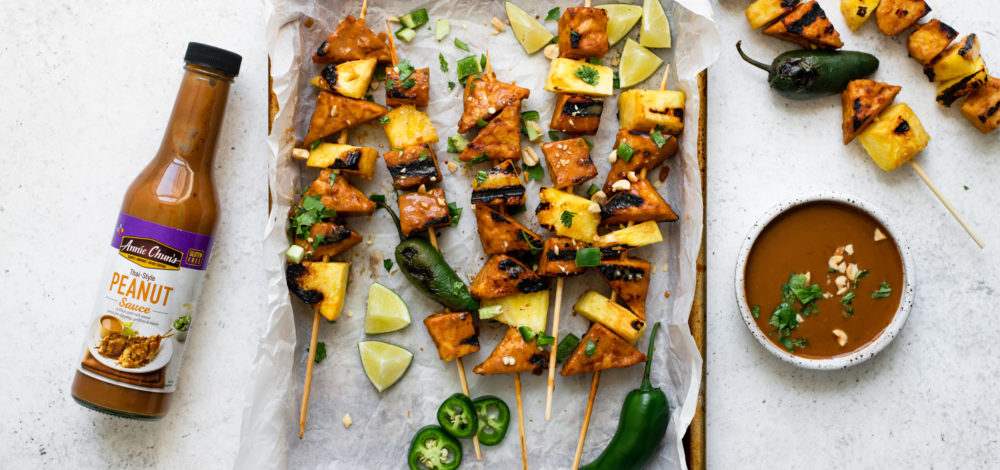 Recipe Serves
3
Minutes Prep
35
Minutes Cook
15
Total Minutes
50
Difficulty: easy
Ingredients
16 ounces pineapple, cut into chunks
16 ounces tempeh, cut into ¾-inch cubes or triangles
1-10 Jalapeños (optional)
1 bottle Annie Chun's Peanut Sauce
2 tablespoons lime juice
Pinch of cayenne (or to taste)
10 wooden skewers
Minced cilantro or mint, to garnish
Chopped peanuts, to garnish
Lime wedges
Method
In a shallow dish, mix together ½ cup Annie Chun's Peanut Sauce, 2 tablespoons lime juice, and cayenne pepper to taste.
Add the cut tempeh and stir to coat. Put in the fridge and let marinate for at least 30 minutes or up to overnight. Stir once or twice.
30 minutes before cooking, soak the wooden skewers in water (especially if cooking on a grill).
Assemble the skewers by skewering the marinated tempeh, pineapple, and jalapeño if using.
Heat a grill pan or gas grill over medium heat/flame. Brush the grill with oil and cook the skewers for 3-5 minutes, or until grill marks appear to the desired amount. Flip and cook another 3-5 minutes.
To serve, drizzle with extra peanut sauce and top with cilantro and chopped peanuts. Squeeze on lime juice to taste.