Orange-Teriyaki Glazed Tempeh Crumble Noodle Bowls
Looking to change up your dinner routine? Orange-teriyaki glazed tempeh crumbles make the perfect addition to teriyaki noodle bowls.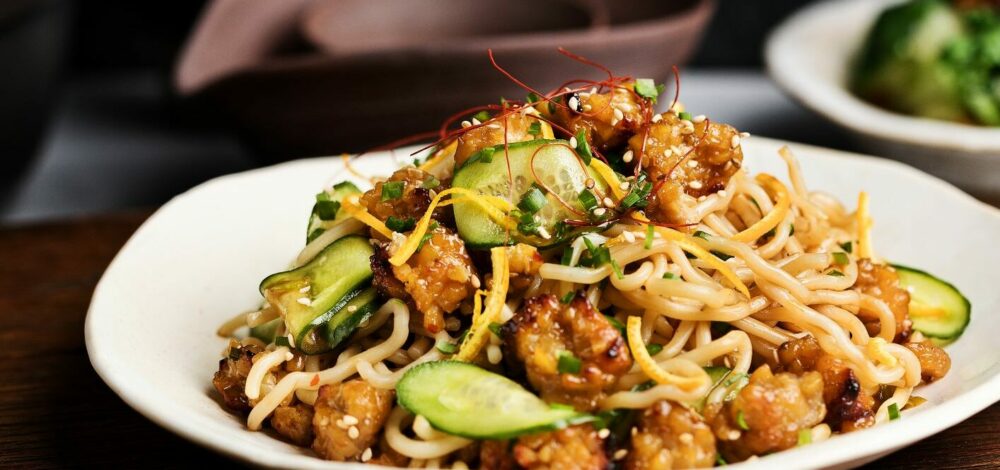 Recipe Serves
2
Minutes Prep
30
Minutes Cook
20
Total Minutes
50
Difficulty: easy
Method
Preheat oven to 400℉ and line a baking sheet with parchment paper.
Add tempeh, orange sauce, and teriyaki sauce to a shallow dish and marinate for 30 minutes.
Spread the marinated tempeh out across the parchment-lined baking sheet and bake for 15-20 minutes, flipping once, until golden and crispy.
Place cucumber slices in a small bowl with several pinches of salt. Let sit for 10 minutes and rinse the cucumber slices to remove the salt. Gently pat them dry and add the lime juice. Toss to coat and set aside.
Cook noodles according to package directions and toss with the included sauce packet.
Portion the noodles into two bowls and top with baked tempeh crumbles and cucumber slices. Garnish with sesame seeds and orange zest and serve.