Orange Chili Glazed Vegan Meatballs
Need a delicious appetizer or vegan protein for your meal? Try these "meatballs" made with beans and brown rice for a nutritious, protein-filled bite!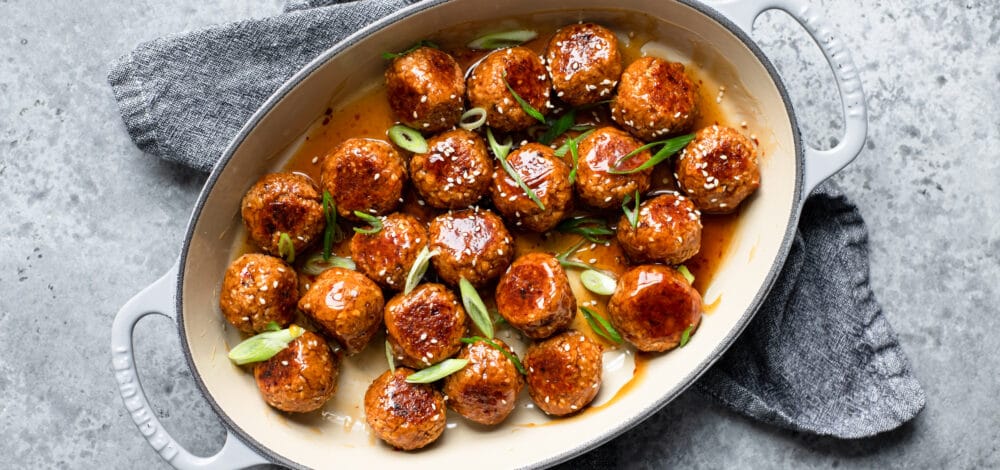 Recipe Serves
6
Minutes Prep
15
Minutes Cook
35
Total Minutes
50
Difficulty: medium
Ingredients
1 teaspoon canola oil
1 cup diced red onion
2 cloves garlic, minced
2 teaspoons minced ginger
½ teaspoon crushed red pepper flakes
15 oz can chickpeas, drained and rinsed
1 pack Annie Chun's Sprouted Brown Rice
2 tablespoons soy sauce
2 tablespoons tahini, cashew butter, or peanut butter
1 tablespoon lime juice
1 tablespoon toasted sesame oil
2 tablespoons sesame seeds, extra for garnish
½ teaspoon salt
Thinly sliced scallions, for garnish
¼- ½ cup panko breadcrumbs (or gluten free bread crumbs)
1 bottle Annie Chun's Chinese-Style Orange Sauce
2 Thai chilies, minced, more or less to taste (substitute 1 tsp crushed red pepper flakes)
Method
Preheat the oven to 375ºF. Line a baking tray with parchment paper and spray with oil.
Heat the teaspoon of oil in a skillet over medium heat and sauté the onions until soft, 3-5 minutes. Add the garlic and ginger and cook for 60 seconds, then stir in the chili flakes.
Transfer the onion mixture to a food processor and add the chickpeas, brown rice, soy sauce, tahini, sesame seeds, salt, lime juice, and toasted sesame oil. Process until finely chopped, clumping together, and can be shaped into balls. Some larger pieces of chickpeas are okay. If the mixture is too wet, stir in breadcrumbs as needed.
Shape 1 tablespoon portions of the mixture into balls, making about 24 balls. Place on the baking tray and spray the vegan meatballs with oil.
Bake for 15 minutes, flip, then bake an additional 10-15 minutes or until crispy on the outside.
In a small pot combine the orange sauce and the Thai chilies and warm up. Bring to just a simmer, then turn off the heat.
Toss the vegan meatballs in the orange chili sauce. Garnish with scallions and sesame seeds to serve. Enjoy on their own as an appetizer or serve atop brown rice. Add some steamed broccoli to make it a meal!