Orange Asparagus Noodle Stir-Fry
This citrusy stir-fry with asparagus is the perfect splash into springtime.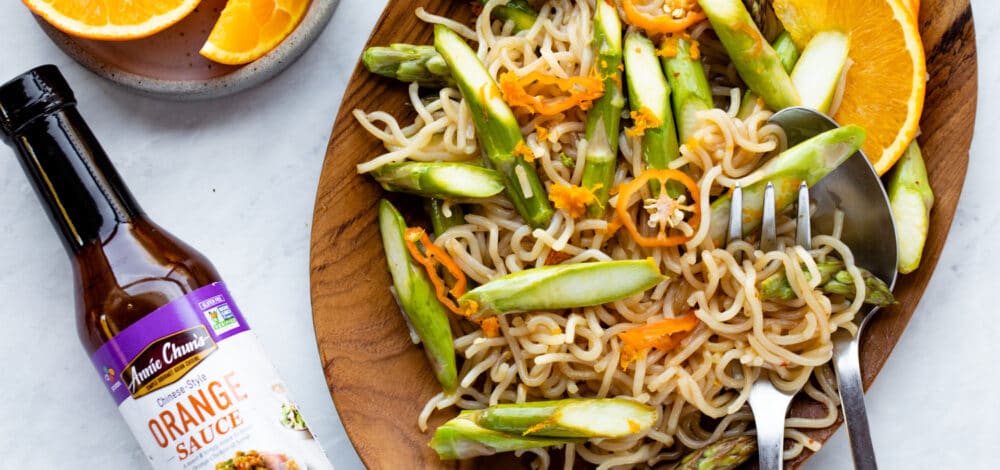 Recipe Serves
4
Minutes Prep
5
Minutes Cook
8
Total Minutes
13
Difficulty: easy
Ingredients
1 tablespoon vegetable oil
1 12-ounce package Annie Chun's Hokkien Noodles
1 pound asparagus, trimmed, thinly sliced on a diagonal about ⅛-inch thick
1 scotch bonnet chili, sliced thinly
½ cup Annie Chun's Orange Sauce
2 teaspoons orange zest
1 tablespoon fresh orange juice
Method
Heat a large skillet over medium-high until hot, about 3 minutes. Add the oil and heat for 30 seconds, then add the noodles and asparagus and stir-fry until it starts to brown around the edges, about 2 minutes. Use tongs to gently separate the noodles.
Add the chili and orange sauce and cook, tossing constantly until asparagus is still crispy yet cooked through and coated in sauce, about 1 minute.
Remove the skillet from heat and stir in the orange juice and zest.
Transfer to a platter and serve immediately.