Mason Jar Thai Coconut Soup
Packed with fresh ingredients, this mason jar instant noodles make an easy meal prep that you can store in the fridge.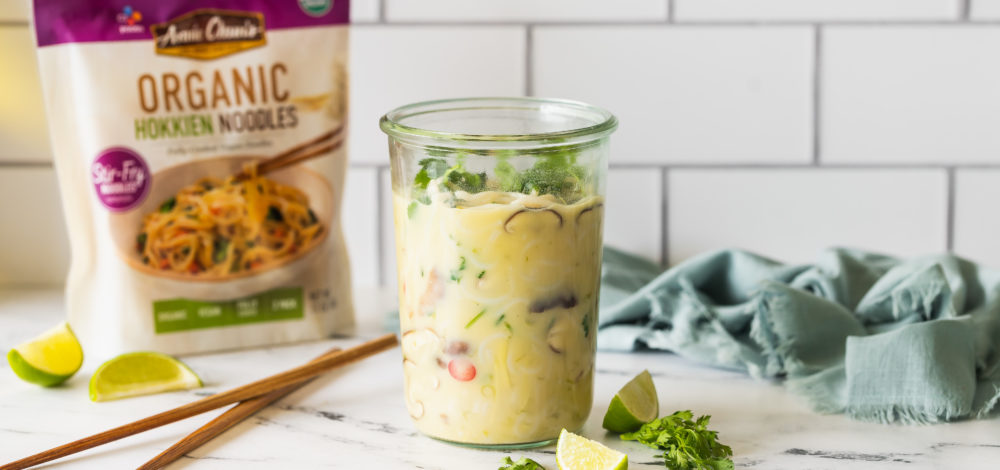 Recipe Serves
1
Minutes Prep
10
Minutes Cook
5
Total Minutes
15
Difficulty: easy
Ingredients
1 pack Annie Chun's Organic Hokkien Noodles
¼ cup shiitake mushrooms, sliced
1 inch piece ginger, peeled and cut into thin matchsticks
1 tablespoon lemongrass (tough outer layers removed and chopped
½ jalapeño, sliced
Handful cilantro leaves with tender stems
2 teaspoons coconut sugar or brown sugar
Zest and juice of 1 lime
1 tablespoon fish sauce
1½ cups vegetable broth
½ cup coconut milk
Lime wedges, to serve
Method
Add Hokkien Noodles to a large, heatproof glass jar. Top with mushrooms, ginger, lemongrass, jalapeño, cilantro, sugar, lime zest, lime juice, and fish sauce. Cover with lid and refrigerate until ready to enjoy.
When ready to enjoy, bring vegetable broth and coconut milk to a boil in a small saucepan. Pour broth mixture into the jar and cover with lid. Let stand for about 3 minutes. Stir and serve with lime wedges.