Lemongrass Coconut Potsticker Soup
Infused with ginger, garlic, lemongrass, this aromatic dumpling soup makes a comforting and nourishing meal perfect for any night of the week!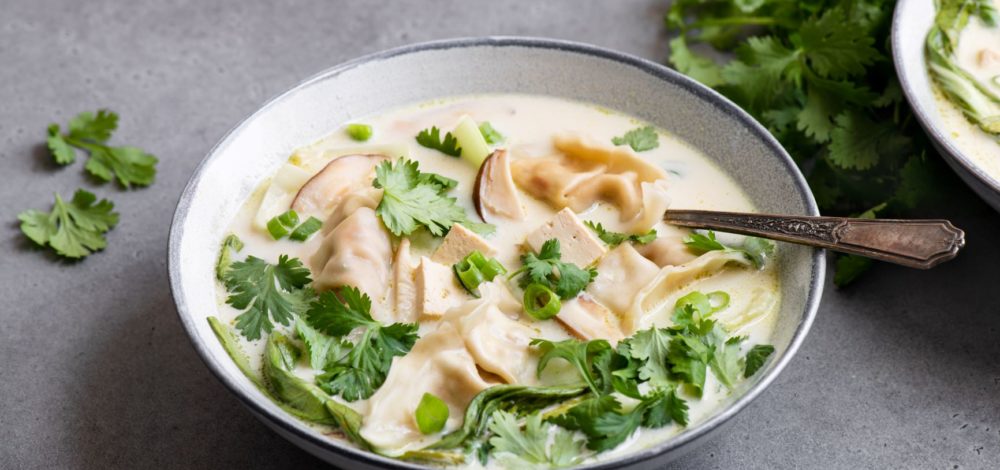 Recipe Serves
4
Minutes Prep
10
Minutes Cook
25
Total Minutes
35
Difficulty: medium
Ingredients
2 teaspoons oil, divided
2 stalks lemongrass
4 cloves garlic, chopped
1 tablespoon chopped ginger or galangal
1 chili pepper (Thai or other), or more to taste
1 bunch scallions, thinly sliced and light and dark parts separated
4 cups vegetable broth
5 ounces shiitake mushrooms, stems removed and caps thinly sliced
1 can coconut milk, full fat or light
1 tablespoon soy sauce
½ block extra firm tofu, cut into cubes
2 tablespoons fresh squeezed lime juice
Salt, to taste
3-4 baby bok choy, leaves separated
1 pack Annie Chun's Organic Shiitake & Vegetable Potstickers
Cilantro, for garnish
Method
Trim the ends and grassy top off the lemongrass and cut in half lengthwise. Pound the lemongrass with the backside of a knife to release the oils.
Heat 1 teaspoon of oil in a large pot over medium heat and add lemongrass, garlic, ginger, chili pepper, and the white and light green part of the scallions. Sauté for 1-2 minutes to soften, then add the vegetable broth.
Bring to a low boil and turn the heat down to low. Let simmer partially covered for 15 minutes, then strain and remove the aromatics.
Turn the heat back on to medium and add the second teaspoon of oil. Add the shiitake mushrooms and let cook for 1 minute. Add the strained broth back to the pot along with the coconut milk, soy sauce, and tofu. Bring the soup to just before a simmer.
Boil water in a second pot and cook the dumplings according to package directions, about 4-5 minutes. Drain and set aside.
To the soup, add lime juice and salt to taste (if needed). Add the baby bok choy leaves and let cook for 1-2 minutes or until wilted.
Divide soup between bowls and add dumplings to each bowl of soup. Garnish with plenty of cilantro and the dark green part of the scallions.