Huli Huli Bowl
We're feeling island vibes with this Hawaiian-inspired Huli Huli Bowl! Our Teriyaki Sauce makes an easy substitute that's every bit as flavorful!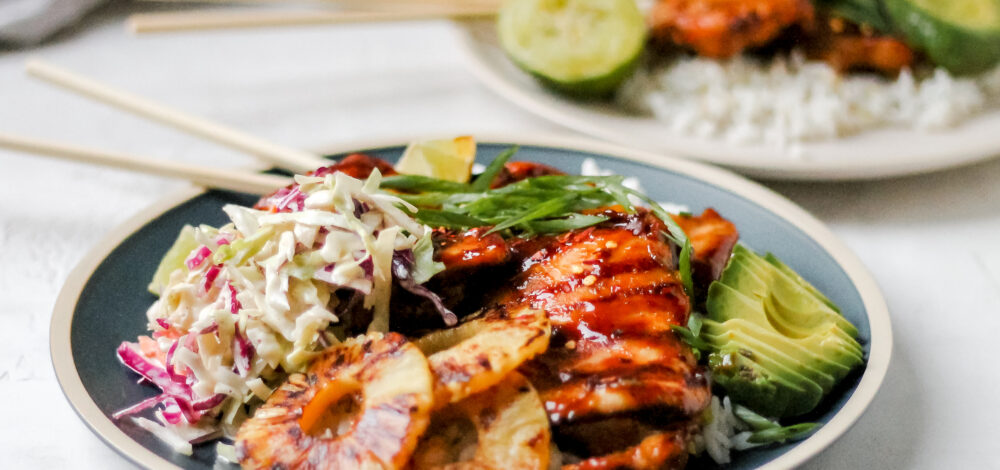 Recipe Serves
1
Minutes Prep
15
Minutes Cook
20
Total Minutes
35
Difficulty: easy
Ingredients
2 Green Onions, thinly sliced with white and green parts separated
¾ cup Jasmine Rice
1 Lime
½ cup cabbage slaw mix
1 tbsp Mayonnaise
4 chicken thighs
4 Pineapple Rings
2 tbsp. Annie Chun's Teriyaki sauce
¼ tsp. Red Pepper Flakes
1 avocado, thinly sliced
Hawaiian Rub:
1.5 tablespoon brown sugar
1 tablespoons sweet paprika
1/2 teaspoon cumin
1/2 teaspoon onion powder
1/2 teaspoon granulated garlic
1/2 teaspoon coarse salt
1/4 teaspoon black pepper
Method
Combine ¾ cup jasmine rice with 1 ½ cups water in a large pot and bring to a boil. Lower to a simmer, cover and cook for 15 minutes. Let rest with the lid on for 10 minutes, then fluff with a fork.
Combine slaw mix, white parts of green onions, 1 tsp lime juice, 1 tsp olive oil, salt & pepper to taste, and set in the fridge until ready to use.
Toss the chicken with the Hawaiian Rub. Preheat grill and cook chicken until charred, brushing on the teriyaki sauce with each turn. Grill pineapple rings until lightly charred.
Serve over rice with red pepper flakes, sliced avocado and green parts of scallions.