Hokkien Pasta Primavera
An all-green version of this fan favorite that looks – and tastes – like springtime.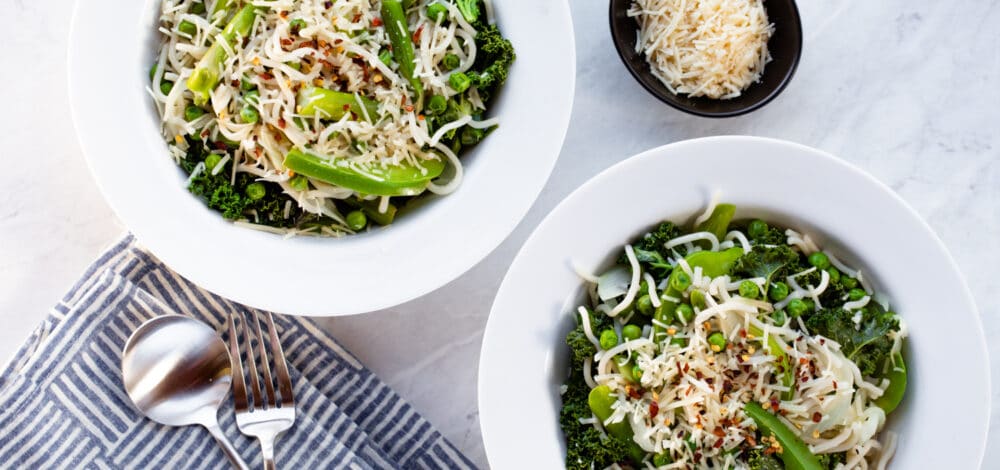 Recipe Serves
4
Minutes Prep
5
Minutes Cook
10
Total Minutes
15
Difficulty: easy
Ingredients
2 tablespoons olive oil
½ small white onion, sliced thinly
5 asparagus spears, cut into 2-inch pieces
1 green bell pepper, sliced thinly
2 garlic cloves, minced
1 12-ounce package Annie Chun's ORganic Hokkien Noodles
1 bunch kale, cut into bite-sized pieces
1 cup frozen peas
¼ cup water or vegetable broth
Salt and pepper to taste
Grated parmesan cheese, for serving
Method
In a large skillet over medium heat, warm the olive oil.
Add the onion, asparagus, and bell pepper and cook until just beginning to soften, about 3 minutes. Add the garlic and a pinch of salt and cook for 1 minute.
Add the Hokkien noodles, kale, frozen peas, a water/broth and stir to combine. Heat until the kale is wilted and the noodles are warmed through. Divide between plates and top with grated parmesan.