Green Vegetables and Chicken Curry
Getting more greens in has never been tastier! This hearty and wholesome recipe features fresh serrano chili pepper, spinach, and cilantro in a delicious coconut base.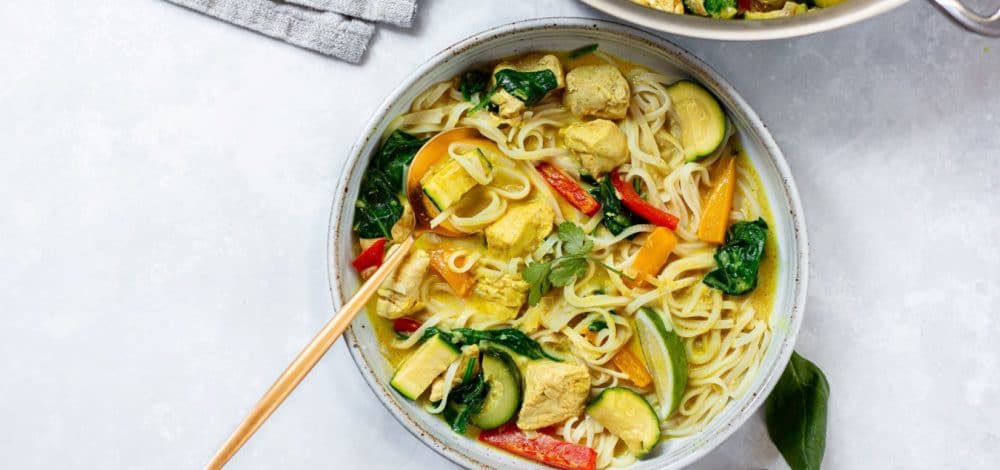 Recipe Serves
4
Minutes Prep
20
Minutes Cook
15
Total Minutes
35
Difficulty: medium
Ingredients
1 package Annie Chun's Pad Thai Rice Noodles
2 tablespoons vegetable oil
2 garlic cloves, sliced
2 tablespoons fresh ginger, chopped
5 oz. baby spinach
½ cup fresh cilantro leaves
1 14 oz. can coconut milk
1 tablespoon fish sauce
1 ¾ lb. boneless, skinless chicken thigh or breast
2 teaspoons yellow curry powder
1 fresh serrano chili pepper, chopped
½ red onion, sliced
1 red or orange bell pepper, sliced into matchsticks
1 medium zucchini, halved lengthwise and sliced ½ inch thick
1 lime, sliced into wedges
Salt
Method
Cook the Pad Thai Rice Noodles in a pot of boiling water according to package directions. Drain, rinse, and set aside.
Heat 1 tablespoon of vegetable oil in a 10-12-inch sauté pan over medium heat. Stir in the garlic and ginger and cook 30 seconds. Add spinach and cover pan. Cook until the spinach is wilted and bright green, about 2 minutes.
Transfer the spinach mixture to a blender. Add cilantro, coconut milk, and fish sauce. Blend on high speed until completely smooth.
Heat remaining vegetable oil in the same sauté pan over medium-high heat. Add chicken and ½ teaspoon salt. Cook 5 minutes, stirring, or until the chicken is no longer pink.
Add curry powder, chili, red onion, bell pepper, and zucchini and stir. Pour in the coconut sauce and bring to a simmer.
Lower the heat and cover the pan. Cook for 5 minutes. Uncover and cook an additional 5-7 minutes to thicken the sauce.
Divide the Pad Thai Rice Noodles into bowls and top with curry sauce. Squeeze lime over the noodles to serve.
Recipe courtesy of Familystyle Food