Garlic Fried Rice
Try this fried rice for a hearty and filling meal. The fragrant aroma of garlic elevates this simple fried rice recipe, giving it a robust flavor.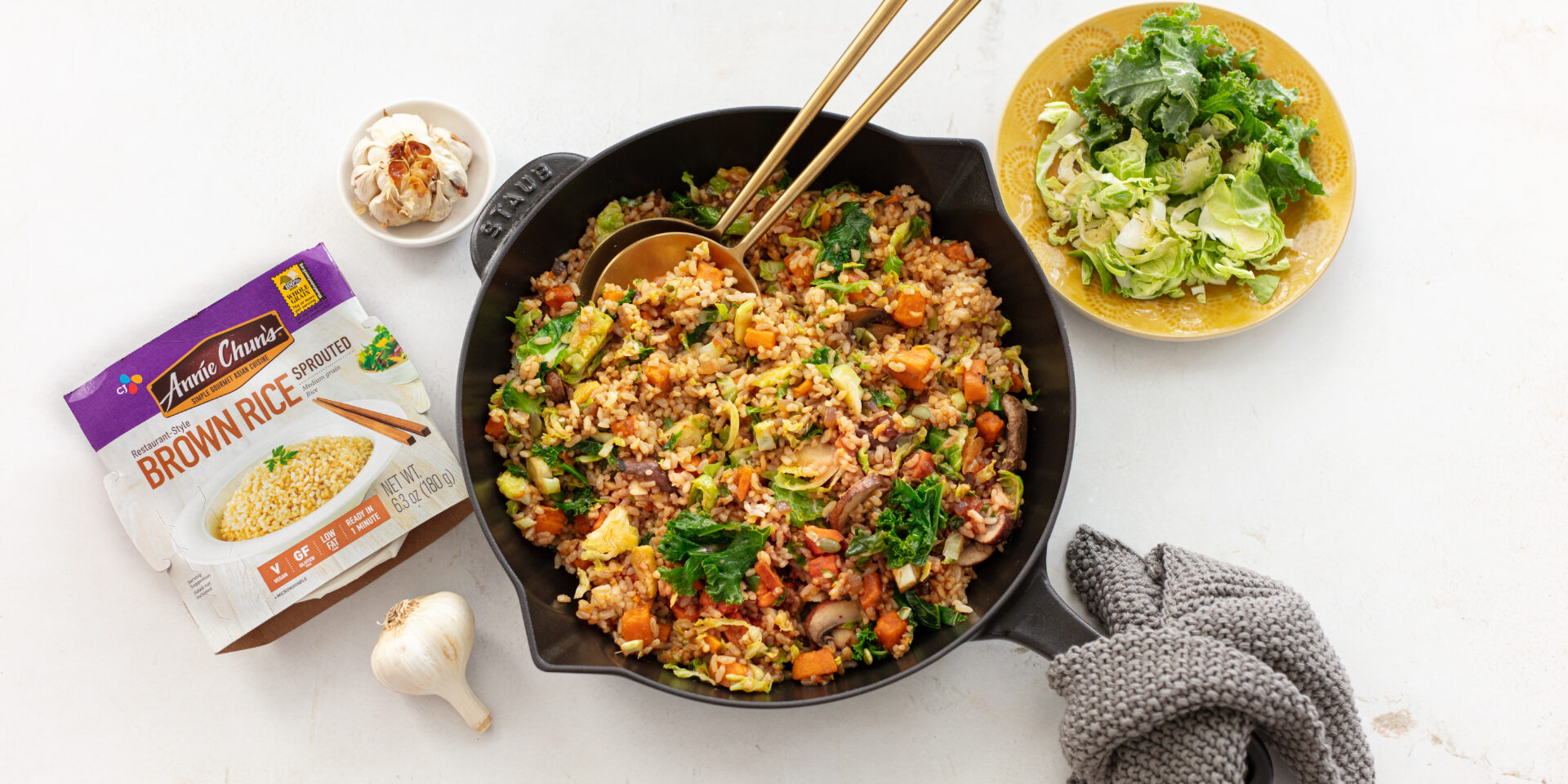 Recipe Serves
4
Minutes Prep
10
Minutes Cook
20
Total Minutes
30
Difficulty: easy
Ingredients
2 tablespoons vegetable oil
1 cup chopped sweet onion
½ teaspoon salt
1 medium sweet potato, peeled and sliced into ½-inch cubes
¼ cup vegetable broth or water
8 ounces Brussels sprouts, stems trimmed and thinly sliced
3 ounces shiitake or cremini mushrooms
2 tablespoons roasted garlic puree *
2 packs Annie Chun's Sprouted Brown Rice
2 tablespoons shoyu or tamari sauce
2 cups chopped kale
2 tablespoons green pumpkin seeds, coarsely chopped
Method
Cook Annie Chun's Sprouted Brown Rice according to package directions and set aside.
Heat the oil in a wok or large skillet over medium-high heat until it begins to shimmer.
Add the onion and salt and cook 2-3 minutes, stirring frequently. Add the sweet potato and broth. Cover and cook 10-12 minutes, until the sweet potatoes are fork tender.
Stir in the Brussels sprouts, mushrooms, and garlic puree. Cook for 5 minutes, stirring occasionally. Add the brown rice, shoyu, and kale and stir to blend. Cook until the kale leaves wilt and turn bright green, about 2-3 minutes.
Remove from heat and sprinkle the pumpkins seeds over the rice to serve.
* To make homemade roasted garlic puree, slice the top off 2 heads of garlic to expose the cloves. Drizzle the garlic with olive oil and sprinkle lightly with salt. Wrap with foil and roast in a 425ºF oven for 30-45 minutes. When cool enough to handle, squeeze the soft garlic into a small bowl and mash with a fork.