Fried Rice Stuffed Pumpkins
Turn your mini pumpkins into festive, edible bowls for your fried rice! Made with crumbled tofu and brown rice for extra protein and filling power.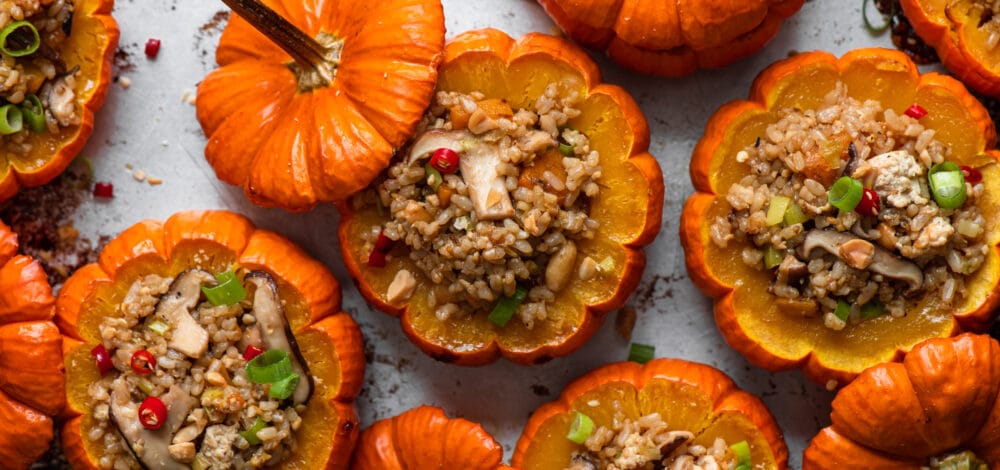 Recipe Serves
8
Minutes Prep
20
Minutes Cook
45
Total Minutes
65
Difficulty: easy
Ingredients
6-8 mini pumpkins
1½ cup diced kabocha or butternut squash
2 teaspoon oil, divided
½ block extra firm tofu, crumbled
6 scallions, thinly sliced, light and dark parts separated
3-4 cloves garlic, minced
2 teaspoons minced ginger
4 red chilies, minced (more or less to taste)
3.5-4 ounces shiitake mushrooms, thinly sliced
3 packs Annie Chun's Sprouted Brown Rice
4 tablespoons soy sauce
4 tablespoons Chinese cooking wine, mirin, or vegetable broth
1 tablespoon toasted sesame oil
¼ cup chopped peanuts or cashews, more for garnish
Method
Preheat oven to 400ºF. Wash and cut the tops off the mini pumpkins and scoop out the seeds (you can reserve them to toast and snack on if desired). Place tops back on the pumpkins and rub the skins with a small amount of oil. Bake the pumpkins on a baking tray for about 30 minutes, or until tender.
Cook the squash alongside the pumpkins. Toss ¼-½ inch diced squash in a small amount of oil and bake in a tray until tender, about 15-20 minutes.
When pumpkins and squash are cooked, make the fried rice. Heat a wok or large skillet over medium-high heat. Add a teaspoon of oil and the tofu. Cook the tofu until it is lightly golden in spots, about 4-5 minutes. Remove from the pan.
Add the second teaspoon of oil to the pan and the light part of the scallions, garlic, ginger, chilies if using, and shiitake mushrooms. Cook until the mushrooms have released their water and browned in spots, about 3-4 minutes.
Add the rice (do not microwave first), cooked squash, tofu, soy sauce, and cooking wine. Fry about 4-5 minutes until the rice is tender. Stir in toasted sesame oil, dark green part of the scallions, and peanuts. Taste and adjust seasoning as needed.
Remove from heat and stuff the rice into the pumpkins. Garnish with some minced chilies, chopped peanuts, and extra green onions. Serve and enjoy.