Floral Caribbean Chicken Bowls
Add a floral touch to your plate for a dinner as pretty as it is delicious!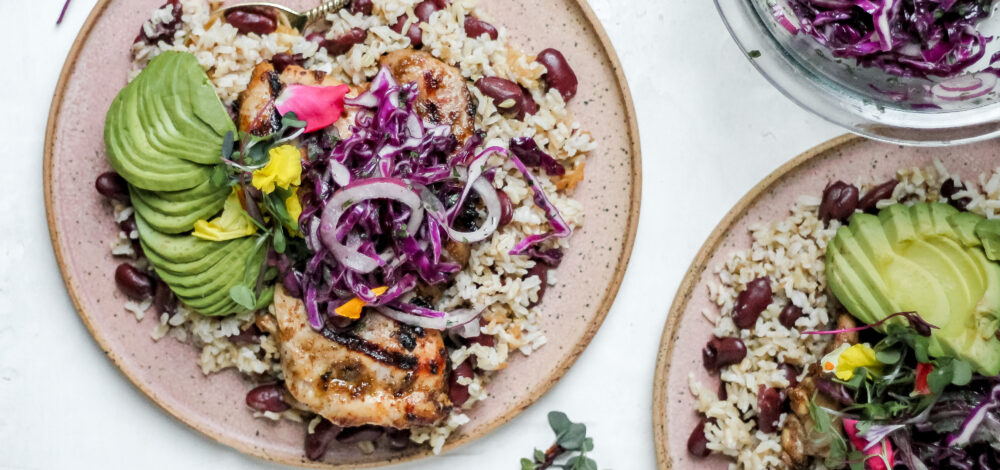 Recipe Serves
1
Minutes Prep
30
Minutes Cook
20
Total Minutes
50
Difficulty: medium
Ingredients
½ cup cooked kidney beans
1 package Annie Chun's ready-made Brown Rice
¼ cup coconut milk
1 red onion, thinly sliced
1 lime, zested & juiced
4-5 sprigs fresh cilantro, finely chopped
2 ounces shredded red cabbage
1 small orange, juiced
4 chicken breasts (aprox. 1 lb)
Edible flowers, for garnish
For the marinade:
2 tbsp Jamaican Jerk Seasoning
1 tbsp white vinegar
1 green onion, thinly sliced
1 tbsp vegetable oil
1 tsp salt
1/4 cup orange juice (from above)
1 tbsp soy sauce
1 cloves garlic, minced
Lime juice (from above)
1 dried habanero chiles (optional)
Method
Blend marinade ingredients and toss chicken thighs until coated. Let sit 30 minutes. When ready, grill until charred and cooked through.
Combine red cabbage, half the orange juice, cilantro, red onion, 1 tbsp onion, lime zest, and salt to taste. Let set in the fridge until ready for use.
In a pot, combine coconut milk, kidney beans, and brown rice. Bring to a rapid simmer and lower heat, cover with lid, and cook until coconut milk is absorbed (5-8 minutes). Fluff with a fork.
Serve the rice with grilled chicken, citrus slaw, avocado (optional) and edible flowers.