Dan Dan Ramen Noodles
These vegan dan dan noodles are truly addictive. Tender noodles and savory mushrooms base are tossed in a rich and fragrant sauce for maximum flavor.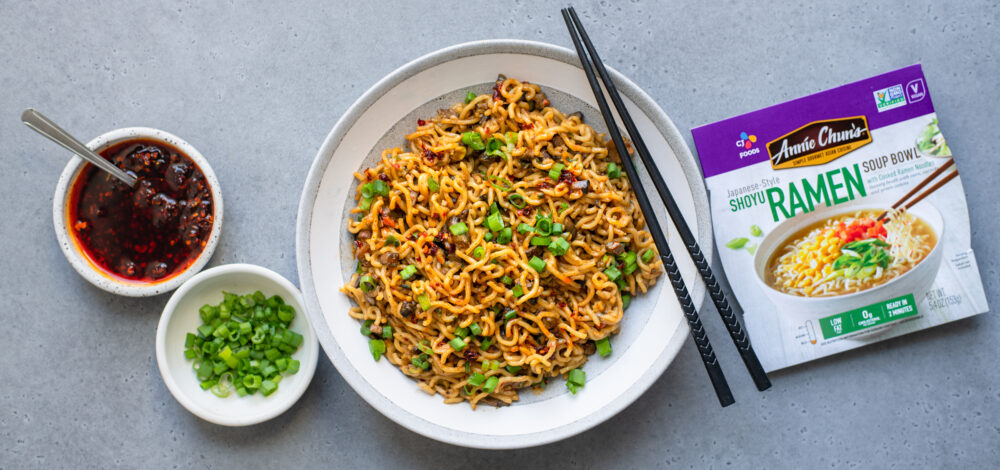 Recipe Serves
4
Minutes Prep
5
Minutes Cook
10
Total Minutes
15
Difficulty: easy
Ingredients
4 packs Shoyu Ramen Soup Bowls
2 tablespoons tahini
1 teaspoon chili oil (more or less to taste)
1½ cups boiling water
1 tablespoon oil
6 scallions, thinly sliced and dark green part reserved
2 cloves garlic, minced
8 ounces baby bella mushrooms, diced
1 tablespoon soy sauce
1 teaspoon toasted sesame oil
Method
Open the soup bowls and add three of the seasoning packets and all four of the toppings packets to a small mixing bowl. Add the tahini and chili oil to the bowl along with the boiling water and stir until smooth. Open the noodle packets and set aside.
Heat a large skillet or a wok over medium high heat. Add the tablespoon of oil along with the scallions (setting aside the green part) and garlic. Sauté for 1-2 minutes until the scallions are softened and lightly browned in spots.
Add the diced mushrooms and sauté for about 4 minutes, or until the liquid is released and the mushrooms are browned.
Add all of the noodles to the pan along with the prepared sauce. Let it come to a simmer and cook until the noodles are soft and the water is mostly absorbed. Taste and add the additional seasoning packet if desired.
Divide between bowls and top with the reserved scallion greens to serve.