Crunchy Thai Noodle Slaw
This crunchy Thai noodle slaw is summer perfection! Add a little crunch to your Pad Thai noodle bowl with some cabbage slaw.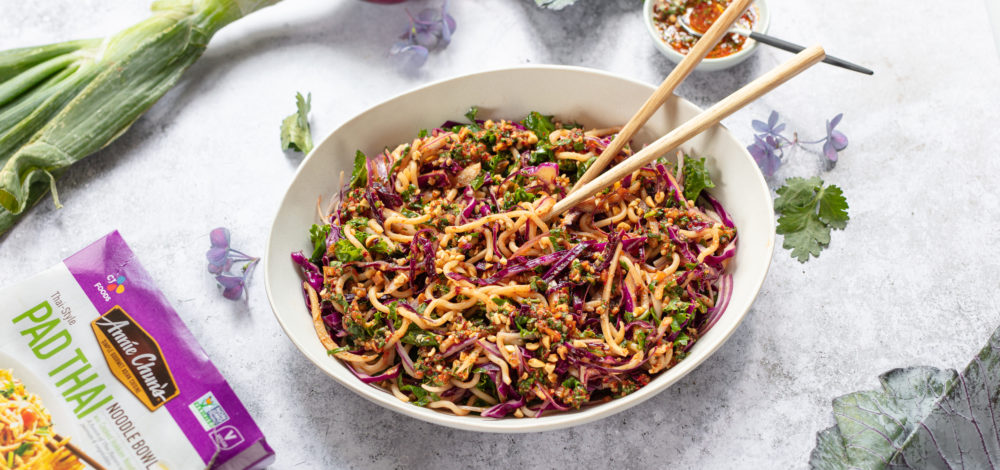 Recipe Serves
2
Minutes Prep
15
Minutes Cook
0
Total Minutes
15
Difficulty: easy
Ingredients
¼ cup chopped cilantro
3 tablespoons fresh lime juice
2 tablespoons finely chopped shallot
1 tablespoon finely chopped unsalted cashews or peanuts
1 tablespoon soy sauce
1 tablespoon maple syrup
2 teaspoons crushed Korean chili pepper (gochugaru)
1 pack Annie Chun's Pad Thai Noodle Bowl
2 cups shredded red cabbage
2 cups purple or green kale, sliced into ribbons
½ red onion, thinly sliced
½ purple or red bell pepper, thinly sliced
Method
To make the dressing, stir together cilantro, lime juice, shallot, cashew, soy sauce, maple syrup, and Korean chili pepper in a medium bowl until blended.
Heat the Pad Thai noodles according to package directions, using 2 tablespoons water. Transfer to a serving bowl and toss with sauce packet. Set aside until cool, about 10 minutes.
Add the cabbage, kale, onion, bell pepper, and dressing to the noodles and toss together with tongs. Top with the peanut packet and serve.
Recipe courtesy of Familystyle Food