Crispy Wontons with Toasted Sesame Chili Oil
Satisfy your taste buds with these better than take-out sesame chili oil wontons!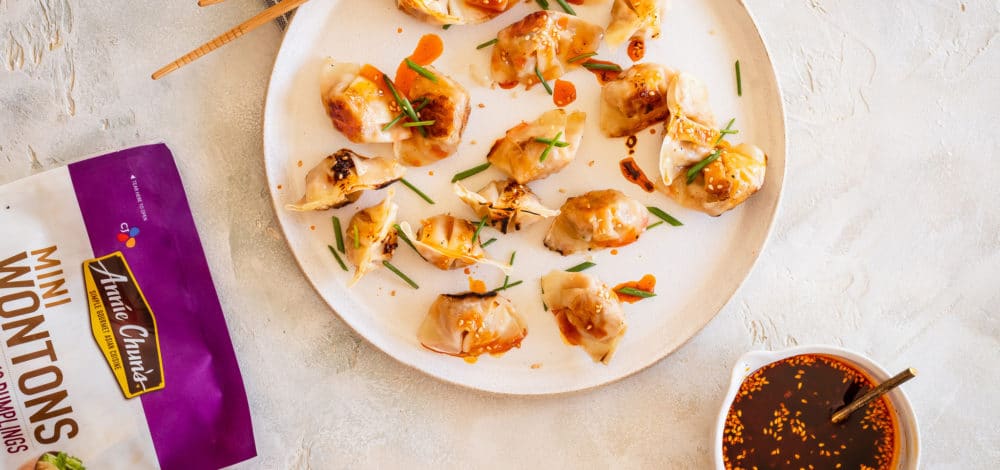 Recipe Serves
1
Minutes Prep
5
Minutes Cook
20
Total Minutes
25
Difficulty: easy
Ingredients
15 pieces Annie Chun's Chicken & Garlic Mini Wontons
2 tablespoons Chinese chili flakes
1 teaspoon Chinese Five Spice powder
1 tablespoon toasted sesame seeds
½ cup vegetable oil
1 1-inch piece thinly sliced ginger
Method
To toast the sesame seeds, spread on a parchment-lined baking sheet and bake in a 350°F oven for about 5-7 minutes. Add to a heatproof bowl.
Heat a pot over medium heat. Add the oil, five spice powder chili flakes, and ginger. Cook, stirring occasionally until the ginger is fragrant, about 10-15 minutes.
Remove from the heat and discard ginger. Very carefully transfer the oil to the bowl or glass jar with the sesame seeds. Stir to combine. Allow to cool.
Pan-fry the mini wontons according to package directions.
Transfer mini wontons to a plate and drizzle with chili oil. Store remaining chili oil in an airtight container in the refrigerator.