Crispy Tofu and Eggplant Udon Stir-Fry
Crispy eggplant and tofu stir-fried with chewy udon noodles in a sweet and spicy sauce. A deliciously easy and hearty vegan meal!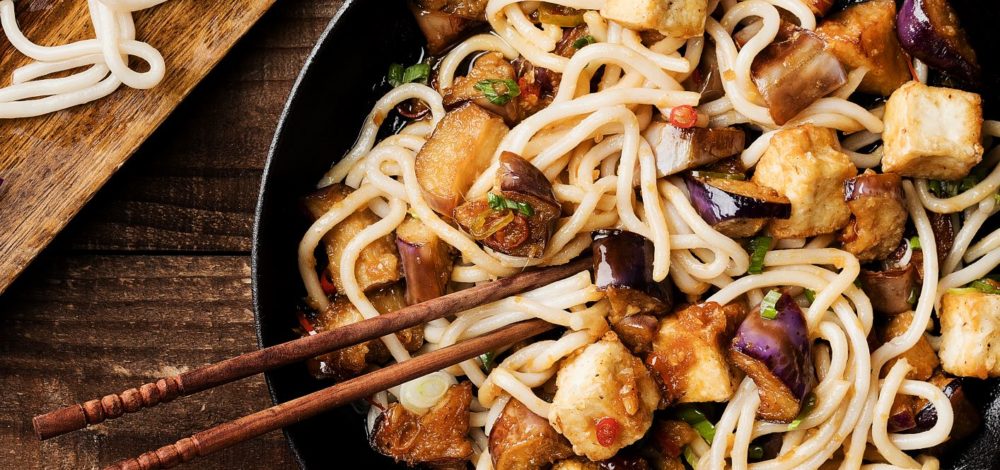 Recipe Serves
2
Minutes Prep
45
Minutes Cook
15
Total Minutes
60
Difficulty: medium
Ingredients
2 medium eggplants
1 block extra firm tofu
3 tablespoons cornstarch
2 packs Annie Chun's Organic Udon Noodles
2 tablespoons vegetable oil, divided
2 scallions, sliced thinly
3 cloves garlic, minced
½-1 red chili
2 teaspoons salt
3 tablespoons soy sauce
4 teaspoons rice vinegar
1 tablespoon maple syrup
1 tablespoon toasted sesame oil
2 teaspoons cornstarch
Method
Cut eggplants into 1-inch cubes. Place the eggplant cubes in a colander and sprinkle with salt, tossing to evenly coat the pieces. Allow the eggplant to stand for 30-45 minutes to remove bitterness. Rinse the eggplant thoroughly and pat dry.
Cut tofu into slabs, about 1-inch thick. Lie the tofu flat on a lint free towel or paper towel and wrap to cover. Place a heavy object over the tofu and let press for 20 minutes. Cut the pressed tofu into cubes.
Sprinkle cubed eggplant and tofu with a thin layer of cornstarch and gently toss to coat.
In a small bowl, combine soy sauce, rice vinegar, maple syrup, sesame oil, and 3 tablespoons of water. In a separate bowl, combine ½ tablespoon of cornstarch with 2 tablespoons of water to make a slurry. Set aside.
Heat 1 tablespoon of oil in a large skillet over medium heat and add the eggplant and tofu. Cook until eggplant and tofu are crispy and golden on all sides, about 5 minutes. Cook in batches, if needed. Transfer cooked eggplant and tofu to a bowl.
Add remaining tablespoon of oil in the skillet. Stir in the scallions, red chili, and garlic and cook until fragrant, about 2-3 minutes.
Slowly pour in the soy sauce mixture, followed by the cornstarch slurry. Bring the mixture to a simmer and let thicken.
Add the noodles and return the eggplant and tofu to the skillet. Cook until the sauce coats the noodles, about 3-5 minutes.
Divide the noodles into two bowls and serve.