Crispy Sweet Chili Chicken Rice Bowl
Chicken coated in our Sweet Chili Sauce served over fluffy white rice. Sweet and savory flavors unite in this single dish!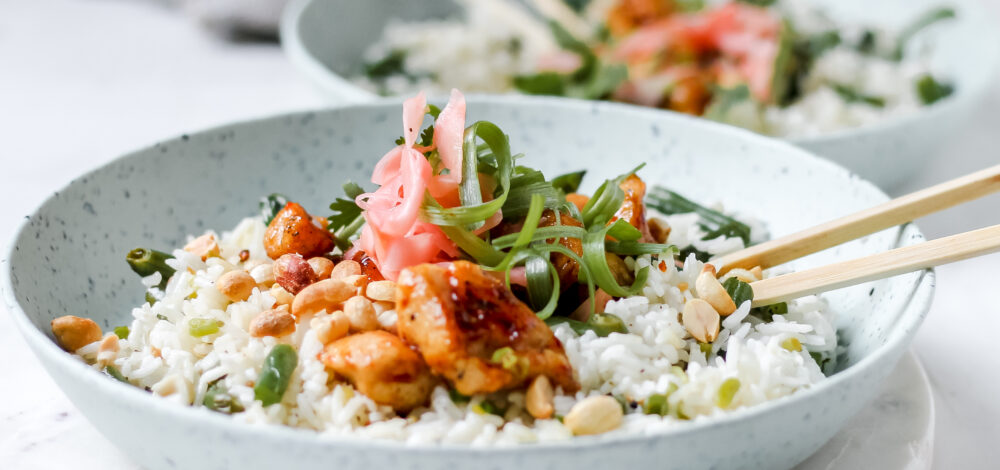 Recipe Serves
1
Minutes Prep
15
Minutes Cook
10
Total Minutes
25
Difficulty: easy
Ingredients
½ oz. Pickled Ginger
1/4c Sweet Chili Sauce
1 tbsp coconut aminos
1 oz. Roasted Peanuts, lightly crushed
2 Green Onions, thinly sliced, white and green parts separated
¾ cup Jasmine Rice
6 oz. Trimmed Green Beans
3 Tbsp. Cornstarch
10 oz. Chicken, cubed
1 tsp. Cilantro Lime Pepper Salt (or lemon pepper)
Method
Combine ¾ cup jasmine rice with 1 ½ cups water in a large pot and bring to a boil. Lower to a simmer, cover and cook for 15 minutes. Let rest with the lid on for 10 minutes, then fluff with a fork.
Toss cubed chicken with cornstarch, salt and pepper until evenly coated. Heat a large frying pan with 2 tbsp high-heat oil and place chicken, in batches, to sear until crisp (4-6 minutes per side). Place on a kitchen towel-lined plate and wipe pan.
Replenish pan with oil and heat on medium-high. Add the green beans to hot pan and cook for about a minute, then add in ¼ cup water and cilantro pepper salt, and cover and cook until the green beans are tender. Remove the lid and add the cooked rice and stir until lightly crisp.
Add green beans to a hot pan and cook, 1 minute. Stir in ¼ cup water and seasoning blend. Cover, and cook until tender, 6-8 minutes. Uncover, and stir in half the green onions (reserve remaining for garnish). Cook until bright green, 1-2 minutes. Stir in cooked rice until heated through and rice starts to crisp, 3-4 minutes. Remove from burner. Cover and set aside.
Top rice with chicken, roasted peanuts, green parts of green onions and pickled ginger. Enjoy!