Crab and Cucumber Sushi Rice Balls
Dainty rice balls with crab and cucumber make a perfect snack for kids. They are so easy to assemble; just roll them into balls and wrap up with Annie Chun's Seaweed Snacks!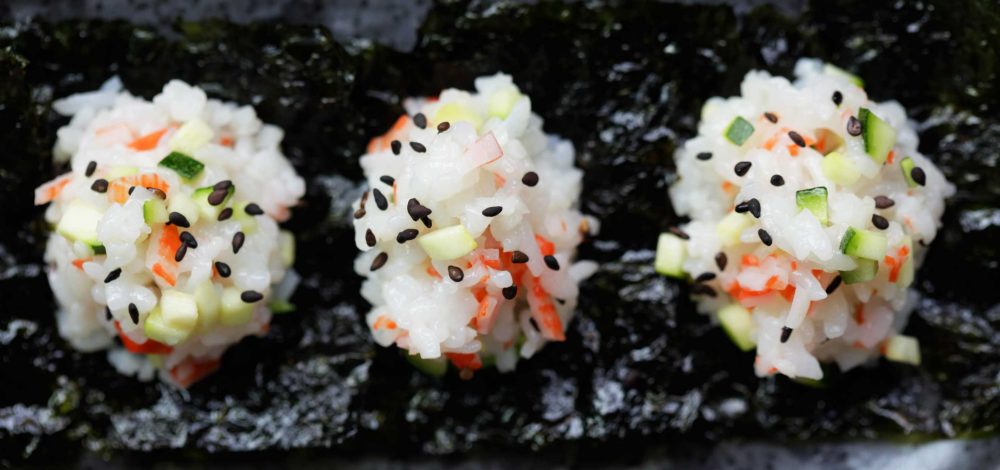 Recipe Serves
4
Minutes Prep
28
Minutes Cook
2
Total Minutes
30
Difficulty: medium
Ingredients
1 tablespoon rice vinegar

¼ teaspoon salt

1 teaspoon sugar

4 oz. imitation crab meat, diced

2 oz. cucumber, diced

1 teaspoon sesame oil

1 teaspoon black sesame
Method
Peel back the cover of the Annie Chun's White Sticky Rice at designated corner. Heat on high in microwave for 1 minute. Let cool for 1 minute.
Transfer the rice into a mixing bowl. Add the rice vinegar, salt and sugar, and stir to mix well. Add the imitation crab, cucumber, sesame oil and black sesame to the rice and mix together.
Wet both of your hands with some cold water. Take 1 tablespoon of the rice mixture and shape it into a rice ball. Repeat the same steps above to make the rice balls.
Wrap a rice ball with a sheet of Annie Chun's Organic Sesame or Wasabi Seaweed Snacks. Serve immediately.