Cold Peanut Noodle Salad
These fiber-full, protein-packed broccoli peanut noodles are guaranteed to keep you full and energized all day long!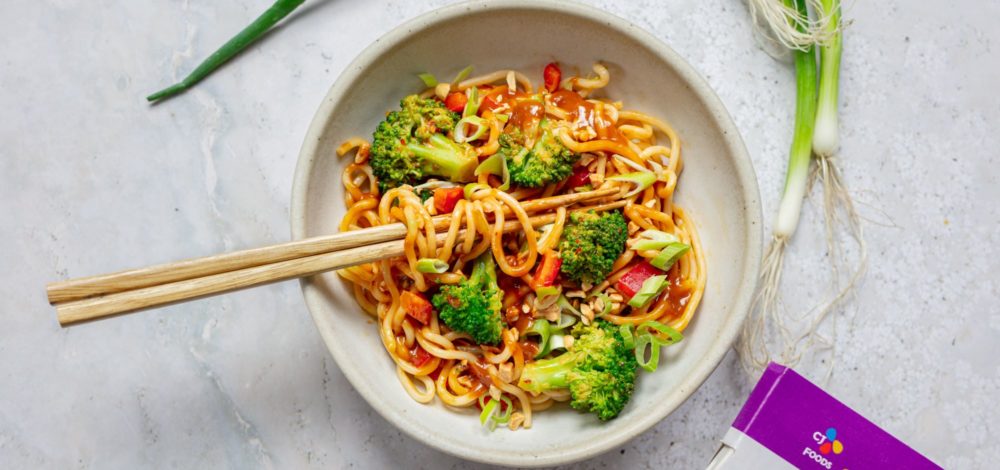 Recipe Serves
2
Minutes Prep
10
Minutes Cook
0
Total Minutes
10
Difficulty: easy
Ingredients
2 packs Annie Chun's Peanut Sesame Noodle Bowls
2 cups broccoli florets in 1-inch pieces
2 cups boiling water
½ cup chopped red bell pepper
2 tablespoons creamy peanut butter
2 tablespoons rice wine vinegar
1 tablespoon soy sauce
1 teaspoon chili garlic sauce
2 chopped scallions
Method
Place the dry toppings, noodles, and broccoli in a medium bowl. Pour boiling water over. Cover with a piece of plastic wrap and let stand 2 minutes.
Pour the noodles into a colander and rinse under cold running water. Drain well and return to the bowl along with bell pepper.
Whisk together sauce packets, peanut butter, vinegar, soy sauce, and chili garlic sauce until smooth.
Pour the sauce over the noodles and toss gently. To serve, sprinkle with the peanuts packets and scallions.
Recipe courtesy of Familystyle Food