Coconut Red Curry Rice Noodle Soup
Forget ordering takeout and make your own curry at home. This Thai inspired vegan noodle soup is loaded with colorful vegetables and made with a creamy coconut red curry broth.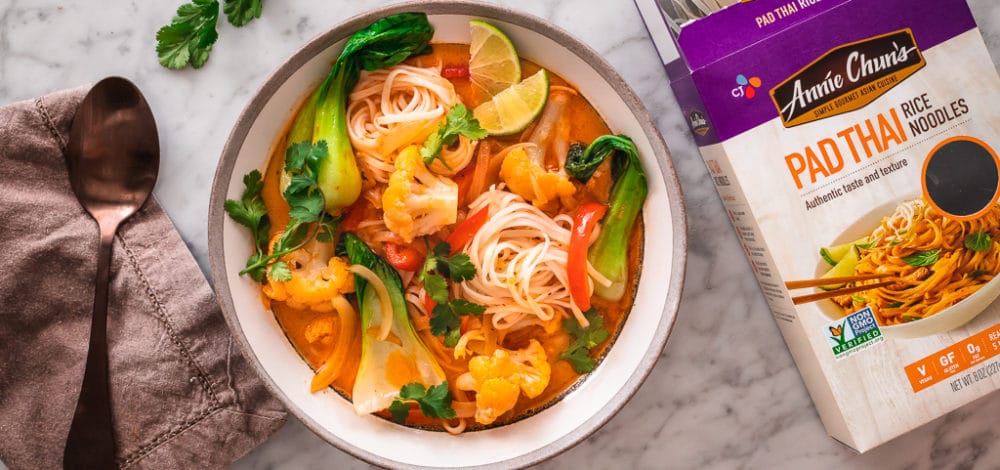 Recipe Serves
4
Minutes Prep
10
Minutes Cook
15
Total Minutes
25
Difficulty: medium
Ingredients
1 pack Annie Chun's Pad Thai Rice Noodles
1 tablespoon coconut oil
1 onion, sliced
1 red bell pepper, seeds removed and sliced
½ teaspoon freshly grated ginger
2 cloves garlic, minced
2 tablespoons red curry paste
1½ cups vegetable broth
1 14-ounce can coconut milk
3 tablespoons coconut sugar or brown sugar
3 tablespoons soy sauce, coconut aminos or vegan fish sauce
3 whole baby bok choy, halved
1 cup cauliflower florets
Juice of 1 lime
Cilantro leaves
Method
Cook the Pad Thai Rice Noodles in a pot of boiling water according to package directions. Drain, rinse, and set aside.
Add coconut oil to a stockpot over medium heat. Add onion and bell pepper and cook until onions are translucent, about 5 minutes.
Add garlic, ginger, and red curry paste and cook for 1 minute. Stir in vegetable broth, coconut milk, coconut sugar, and soy sauce and bring to a simmer.
Add bok choy and cauliflower and continue to simmer for another 5-7 minutes or until cauliflower is cooked.
Remove from heat and stir in lime juice. Taste and adjust seasoning by adding more sugar or soy sauce if needed.
Divide the Pad Thai Rice Noodles into four bowls. Ladle soup over noodles and garnish with cilantro.