Chili Garlic Ramen Noodles with Chicken
Frozen veggies to the rescue! Elevate your pantry supper routine with this quick chili garlic stir-fry ramen.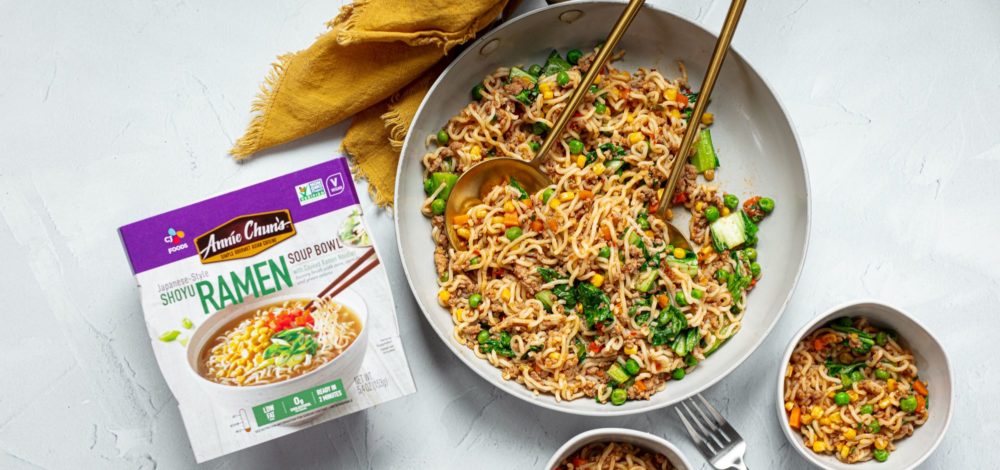 Recipe Serves
2
Minutes Prep
5
Minutes Cook
10
Total Minutes
15
Difficulty: easy
Ingredients
½ pound ground chicken
2 packs Annie Chun's Japanese-Style Shoyu Ramen Soup Bowl
1 tablespoon Asian chili garlic sauce
1 tablespoon minced fresh garlic
1 tablespoon vegetable oil
1 cup frozen mixed vegetables
1 cup low-sodium chicken broth or water
2 cups baby spinach leaves or 3 ounces thawed frozen spinach
Method
Put the chicken in a medium bowl. Add the contents of both soup base packets, chili garlic sauce, and garlic. Stir to combine.
Heat the oil in a large non-stick skillet over medium-high heat until it begins to simmer. Add the chicken to the pan and cook until it's cooked through, stirring frequently, 3-5 minutes.
Add the noodles, toppings packets, and frozen vegetables into the pan. Add the broth or water and stir to coat the noodles. Simmer 5 minutes, stirring occasionally, until liquid is completely absorbed and the noodles are soft and flexible.
Remove from heat and stir in the spinach until it wilts, about 1 minute. Serve warm.
Recipe courtesy of Familystyle Food